Director of the Central Intelligence Agency: Who Is Gina Haspel?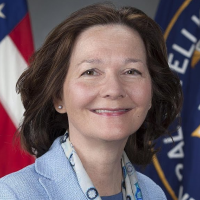 Gina Haspel
Gina Haspel, the deputy director of the Central Intelligence Agency (CIA) who spent most of her career in the clandestine service of the organization, became the first woman to be the director of the CIA when she was confirmed by the U.S. Senate on May 17, 2018. Her March 13 nomination by President Donald Trump was controversial because she was associated with torture during the administration of President George W. Bush. After the announcement was made, the CIA launched a frantic push to humanize her. Haspel lost three Republican senators but gained six Democrats in the Senate vote, which was 54-45.
Gina Cheri Walker was born in Ashland, Kentucky, on October 1, 1956, the oldest of five siblings. Her father served in the U.S. Air Force, and Haspel attended high school in the United Kingdom. She had wanted to attend the U.S. Military Academy at West Point, but it wasn't accepting female applicants at the time. Instead, Haspel earned a bachelor's degree in journalism and languages from the University of Louisville in 1978. She was married briefly to Jeff Haspel, who served in the U.S. Army.
After graduation, Haspel took a job with the 10th Special Forces Group at Ft. Devens in Massachusetts as a contractor to run the library and foreign language lab. There, an Army officer named Michael Vickers encouraged Haspel to join the CIA. Vickers would later work for the CIA and subsequently served as undersecretary of defense for intelligence in the Barack Obama administration.
Haspel joined the CIA in 1985 and worked as a reports officer specializing in the Soviet Union. In 1988, she was listed as "acting head of administration" in Addis Ababa, Ethiopia. According to her official CIA biography, in Africa, she "learned to recruit and handle agents." She was subsequently posted to Central Europe, Turkey and Central Asia. In 2001, Haspel requested a transfer to the agency's counterterrorism group, and her first day on the job there was September 11.
One part of Haspel's time at CIA that has come to light is her tenure as chief of a black-site prison in Thailand beginning in late October 2002. That site is where al-Qaeda suspects Zayn al-Abidin Muhammed Hussein, better known as Abu Zubaydah, and Abd al-Rahim al-Nashiri were tortured. According to a Senate report on the CIA torture project, at one point Zubaydah was "completely unresponsive, with bubbles rising through his open, full mouth." Some personnel at the Thailand camp broke down when seeing how Zubaydah was mistreated. The torture of Zubatdah took place before Haspel arrived, but that of Nashiri, include waterboarding, was carried out while she was in charge.
In 2005, Haspel wrote a memo ordering the destruction of videotapes showing CIA personnel torturing suspected terrorists. The memo from Haspel came despite the CIA general counsel and the White House ordering that the tapes be preserved. Haspel has said she wrote the memo at the request of her boss, Jose Rodriguez, who was then chief of CIA's clandestine operations.
According to the National Security Archive, "Ms. Haspel played a leading role in the creation and perpetuation of the CIA's false claims that torture uniquely produced actionable intelligence that saved lives….For the 20 major and minor claims CIA has put forward for its torture having thwarted terrorist plots or led to the capture of terrorists, the Senate Intelligence Committee report documents that in every case the actionable intelligence actually did not come from torture, but CIA officials – including Ms. Haspel – deluded themselves into believing so."
Other jobs held by Haspel at the CIA include: deputy director of the National Clandestine Service, deputy director of the National Clandestine Service for Foreign Intelligence and Covert Action and chief of staff for the director of the National Clandestine Service. Haspel was appointed in 2013 to lead the National Clandestine Service, but served only in an acting role because of her involvement with the CIA's torture program, which led to opposition from some members of the Senate. She also previously served in several locations as the agency's station chief.
Haspel was appointed deputy director of the CIA on February 2, 2017, despite opposition from members of Congress on both sides of the aisle because of her involvement with torture and rendition. Shortly thereafter, Haspel was to be a witness in a suit brought against two psychologists who ran the torture program. The Donald J. Trump administration invoked executive powers to keep Haspel and others from having to testify. A settlement to the suit—its terms confidential—was reached in August 2017, shortly before the trial was to open.
On April 23, 2018, 109 retired military leaders released a statement condemning the excuse that Haspel was "just following orders." They noted that "We did not accept the 'just following orders' justification after World War II, and we should not accept it now. Waterboarding and other forms of torture or cruel and inhuman treatment are—and always have been—clearly unlawful. Individuals in the service of our country, even at the lowest levels, have a duty to refuse to carry out such actions."
On April 27, after former CIA Director Mike Pompeo was confirmed as Secretary of State, Haspel was promoted to acting director of the agency.
Haspel is single and is a Johnny Cash fan.
-Steve Straehley, David Wallechinsky
To Learn More:
Gina Haspel's CIA Torture File (National Security Archive)
Gina Haspel, Trump's Pick for CIA Director, Tied to Use of Brutal Interrogation Measures (by Greg Miller and Shane Harris, Washington Post)
Gina Haspel's Nomination to Head CIA Faces Some Opposition in Senate (by Shane Harris and Karoun Demirjian, Washington Post)
After a CIA Career in the Shadows, Gina Haspel to Face the Spotlight of Controversy (by Chris Megerian, Los Angeles Times)
State Secrets Privilege Invoked to Block Testimony in CIA Torture Case (by James Risen, Sheri Fink and Charlie Savage, New York Times)
Architects of CIA Interrogation Program Settle Lawsuit Brought on Behalf of Brutalized Detainees (by Ellen Nakashima and Julie Tate, Washington Post)