Director of the Bureau of Ocean Energy Management: Who Is Abby Ross Hopper?
Wednesday, March 15, 2017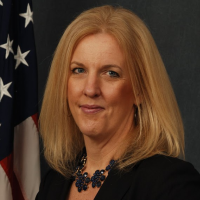 Abby Ross Hopper
Abigail Ross Hopper served as director of the Bureau of Ocean Energy Management (BOEM) in the Department of the Interior from January 2015 until January 2017 when she became president and chief executive officer of the Solar Energy Industries Association trade group. BOEM manages the natural gas, oil and other mineral resources on the U.S. outer continental shelf (OCS). BOEM is responsible for collecting revenues generated from government leases of OCS lands, as well as onshore mineral leases on federal and Native American lands, to private oil and gas companies.
Hopper came from a public service family. Her mother, Jane Lewis Ross, served in the Clinton administration as director of income security issues at the General Accounting Office and as deputy commissioner for policy in the Social Security Administration. Her father, David G. Ross, was a judge who also served in the Clinton administration as commissioner of the Office of Child Support Enforcement. Hopper's younger brother, Justin Ross, spent nine years as a member of the Maryland House of Delegates.
Hopper grew up in College Park, Maryland, in the shadow of the University of Maryland. However, she left the state for Dartmouth to earn an undergraduate degree. She initially planned on a career in medicine, but changed her mind and eventually graduated with a B.A. in history in 1993. She then did attend Maryland's law school and earned her law degree in 1999.
Hopper spent the first nine years of her career in private practice, first at the firm that became Hogan Lovells, then at Joseph Greenwald & Laake. She concentrated on mergers and corporate law. "You're never not a lawyer once you've been one," she told Laura Ryan of The Atlantic. "I still think in six-minute billing increments."
In 2008, Hopper joined the Maryland Public Service Commission as its deputy general counsel. Two years later, she became energy adviser to Gov. Martin O'Malley, a role she continued to fill until joining the federal government. Hopper in 2012 added the job of acting director of the Maryland Energy Administration to her duties and got the title officially in July 2013. There, she helped shepherd her state's Offshore Wind Energy Act of 2013 to passage. The law created a market for wind energy in the state, encouraging the construction of offshore windmills.
Hopper moved to the BOEM in January 2015. Some of the things her agency accomplished right before she left office as the Trump administration was about to take over was the oversight of the offer of 48 million acres of Gulf of Mexico oil leases; the halt of seismic testing for Atlantic Ocean oil fields; and the prohibition of oil and gas drilling in the Arctic Ocean.
She is married to Greg Hopper, a trial attorney, and the couple have two daughters and a son.
-Steve Straehley, David Wallechinsky
To Learn More:
Hopper Says Being Present Is Her Key to Success (by Alicia McElhaney, Capital News Service)
O'Malley Aide Abigail Hopper Tapped to Run Federal Offshore Energy Bureau (by Timothy B. Wheeler, Baltimore Sun)