Did you Hear about the Navy Bribery Scandal Involving a Dozen Admirals, "Yummy" Prostitutes and "Fat Leonard"?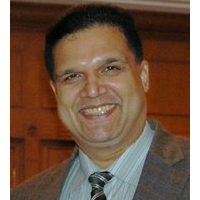 Leonard Glenn Francis (photo: Navy League)
One of the U.S. Navy's biggest embarrassments continues to stir headlines and produce serious fallout for top military personnel.
Two years ago, the fraud investigation of Singapore-based defense contractor Glenn Defense Marine Asia revealed naval officers had accepted bribes in the form of sex, money, tickets to a Lady Gaga concert and other valuables.
Glenn Defense Marine, which has serviced and supplied Navy ships and submarines at ports around the Pacific for 25 years, was accused of repeatedly overbilling the Navy for everything from tugboats to fuel to sewage disposal, according to federal prosecutors.
The case has already resulted in punishments for some commanders. As many as three dozen admirals are being investigated as part of the probe, according to Government Executive. Coverage of the scandal has unearthed stories of "yummy" prostitutes, Spanish suckling pigs, spa treatments and more.
Three of the admirals have been censured by Navy Secretary Ray Mabus for accepting "lavish gifts from company owner Leonard Glenn Francis, known as Fat Leonard for his corpulent profile and grandiose lifestyle," Katherine McIntire Peters wrote at Government Executive.
In addition, two more admirals have lost their access to classified information while the investigation continues and six lower-ranking personnel have been criminally charged.
"All indications are the prosecution is just getting started," Peters added.
In January, Capt. Daniel Dusek admitted to passing along classified information about ship schedules to Francis in exchange for visits from prostitutes, cash and stays in luxury hotels, according to The Washington Post.
Francis pleaded guilty earlier this year to bribing Navy officers and civilian employees so he could overcharge the federal government for port visits by Navy ships.
-Noel Brinkerhoff
To Learn More:
Are Civilian Agencies Held to a Higher Standard Than the Military? (by Katherine McIntire Peters, Government Executive)
PACOM Chief Locklear To Be Cleared in 'Fat Leonard' Probe (by Christopher P. Cavas, Defense News)
Defense Contractor Pleads Guilty in Massive Bribery Case (by Craig Whitlock, Washington Post)
Top Navy Officials Arrested in Bribery Scandal Involving Prostitutes, Cash, and Lady Gaga Tickets (by Danny Biederman and Noel Brinkerhoff, AllGov)