Dairy Producers Hit with Minor Penalties after "Premature Slaughter" of 500,000 Cows
Thursday, September 08, 2016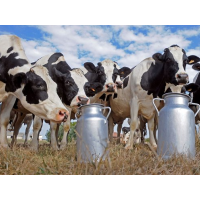 (photo: Jean-Pierre Muller, AFP/Getty Images)
By Nicholas Iovino, Courthouse News Service
OAKLAND, Calif. (CN) — Some of the nation's largest dairy producers will pay $52 million to settle an antitrust class action with consumers in 15 states and the District of Columbia.
U.S. District Judge Jeffery White granted preliminary approval of the $52 million settlement on Aug. 25.
In the underlying lawsuit, lead plaintiff Matthew Edwards sued a cadre of dairy giants, including Land O' Lakes, the National Milk Producers Federation, Dairy Farmers of America and Agri-Mark, in Federal Court in September 2011.
The dairy producers were accused of conspiring to prematurely slaughter more than 500,000 cows between 2003 and 2010 to limit the production of raw milk and drive up prices for yogurt, sour cream and other dairy products.
"The biggest dairy producers in the country, responsible for almost 70 percent of the nation's milk, conspired together in a classic price-fixing scheme, forcing higher prices for a basic food item onto honest consumers and families," said Steve Berman, managing partner of Hagens Berman, one of the law firms representing the plaintiff class, in a statement. "We're pleased that this settlement will return some of what consumers lost due to this massive fraud perpetrated for ill-gotten gains."
The class includes all consumers who from 2003 to present purchased cream, half & half, yogurt, cottage cheese or sour cream in California, Kansas, Massachusetts, Michigan, Missouri, Nebraska, Nevada, New Hampshire, Oregon, South Dakota, Tennessee, Vermont, West Virginia, Wisconsin and the District of Columbia.
The National Milk Producers Federation said in a statement the dairy industry group, Cooperatives Working Together (CWT), "has worked diligently to put this legacy issue behind us."
"Settlement of this litigation is the most sensible and responsible course of action to maintain the current CWT Export Assistance program and allow us to focus on the future," said Jim Mulhern, president and CEO of the National Milk Producers Federation.
Cheryl Leahy, general counsel for animal rights organization Compassion Over Killing, said her organization "was proud to have spearheaded the research" that led to this class action litigation.
"Not only was the price of milk artificially inflated, but this scheme ultimately cost 500,000 young cows their lives," Leahy said in a statement.
In their motion for settlement approval, the plaintiffs estimate 73 million class members are eligible to receive a portion of the $52 million fund.
No proof of purchase is required to submit a claim. Two levels of fixed cash payments will be set based on class members' purchases and the number of claims submitted.
Any cash remaining after a first round of disbursement may be distributed in a second round as grocery loyalty cards, continuing until all funds are exhausted, according to the settlement approval motion.
Alternatively, leftover funds may also be distributed to attorneys general in the affected jurisdictions "for use in prosecuting antitrust claims."
Under the agreement, 18 class representatives will receive incentive awards of $5,000 each for a total of $90,000.
Affected consumers can submit claims or objections, or ask to be excluded from the settlement, at www.boughtmilk.com.
The deadline to file objections against the settlement is Dec. 2, 2016.
A fairness hearing on a motion for final settlement approval is scheduled for Dec. 16, 2016, in Oakland.
To Learn More:
Dairy Price-Fixing (Hagens Berman)