Czech Republic's Ambassador to the United States: Who Is Hynek Kmoníček?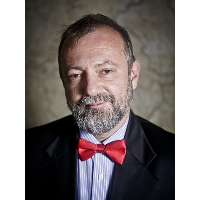 Hynek Kmoníček
Hynek Kmoníček, a long-time member of his country's Ministry of Foreign Affairs, who for a time served as deputy foreign minister, took over as the Czech Republic's ambassador to the United States on March 16, 2017. After the election of Donald Trump as president of the U.S., Kmoníček predicted that "Donald Trump's administration will be a combination of the aggressive isolationism of Andrew Jackson together with the strategy of Richard Nixon minus Kissinger."
Kmoníček was born October 22, 1962, in Pardubice, in what was then Czechoslovakia. He attended the University of South Bohemia, studying music and education, and earned a doctorate in Education in 1986. He went on to Prague's Charles University, where he earned degrees in English and Arabic studies in 1989.
As might be guessed from his original field of study, he started his working life in 1986 as a music teacher, and played lute and classical guitar in concerts as well. Beginning in 1991, he served as a tutor of English and Arabic at the University of Pardubice. He took a year off starting in 1994 to study the modern history of the Middle East, with a specialty in Hebrew and Arabic languages at Hebrew University in Jerusalem.
Kmoníček joined the foreign ministry in 1995 as a desk officer in the Middle East department and by 1997 he was director of the North Africa and Middle East Department. In 1999, Kmoníček was named director general for Asia, Africa and the Americas.
His first ambassadorial assignment came in 2001, when he was made the Czech Republic's representative to the United Nations in New York. There he was chair of the Fifth Committee, which handled the organization's budgetary and administrative issues. In 2006, Kmoníček was appointed ambassador to India, with responsibility for Bangladesh, Nepal, Maldives and Sri Lanka. Among his many responsibilities in this position, he helped a Czech scientist who was arrested by Indian officials in 2008 for illegally collecting rare beetles. In 2015, the scientist, Emil Kučera, discovered a beetle in China, which he named Anthaxia Kmoníček for Kmoníček.
Kmoníček returned to Prague in 2009 to serve as deputy foreign minister for legal, consular and political affairs. By the next year, however, Kmoníček had worn out his welcome with Foreign Minister Karol Schwarzenberg, and in 2011 Kmoníček was transferred to the position of ambassador to Australia, with responsibility for New Zealand, the Cook Islands, Fiji, Solomon Islands, Tonga, Vanuatu and Samoa. Schwarzenberg was quoted at the time that if the Czech Republic had an embassy on Mars, he would have sent Kmoníček there.
But Miloš Zeman took over as president of the Czech Republic in 2013, and brought Kmoníček home to serve as his chief foreign policy adviser, director of the Foreign Affairs Department, a role he filled until taking the Washington job.
In 2015, Kmoníček cooled a brewing spat between Zeman and U.S. Ambassador Andrew Schapiro, who suggested that Zeman, as the leader of an EU country, not attend a military parade in Moscow celebrating the anniversary of the end of World War II.
Kmoníček is married to Indira Gumarova and has a son and three daughters. Kmoníček enjoys gourmet cooking and collecting hot sauces.
-Steve Straehley
To Learn More:
U.S. Ambassador Praises Zeman's Man as Skillful Diplomat (Prague Post)
Hynek Kmoníček (by Indira Gumarova, Czech and Slovak Leaders)
Hynek Kmonícek Of Czech Republic Chairman Of Fifth Committee (United Nations)