Corporate Takeover of the First Amendment
Wednesday, March 25, 2015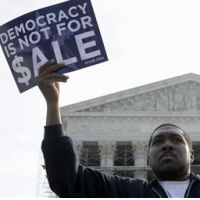 (AP photo)
The First Amendment isn't just for individuals anymore. The cornerstone of the Bill of Rights is increasingly becoming the property of corporations, according to a new study.
Harvard Law School professor John C. Coates IV wrote that rulings before the U.S. Supreme Court show there has been a "corporate takeover of the First Amendment." Coates, a former partner of the corporate law firm Wachtell, Lipton, Rosen & Katz, looked at First Amendment cases involving individuals and corporations. In 1976, the Supreme Court decided Virginia State Pharmacy Board v. Virginia Citizens Consumer Council, ruling that pharmacies could advertise prices for prescription drugs. Since then, Coates found, the success rate for both types of plaintiffs has increased to about 55%. The rate improved a bit for individuals—from 41%—but soared for corporations, increasing from 20%.
"Corporations have begun to displace individuals as the direct beneficiaries of the First Amendment," Coates wrote.
Coates isn't the first to show that corporations are increasingly taking advantage of the First Amendment. Tim Wu, a Columbia University law professor, wrote in 2013 in The New Republic that the roots of the Citizens United (pdf) case decided in 2010 reach to the 1970s, when Virginia Pharmacy and other cases gave corporations rights previously reserved to humans.
"Once the patron saint of protesters and the disenfranchised, the First Amendment has become the darling of economic libertarians and corporate lawyers who have recognized its power to immunize private enterprise from legal restraint," Wu wrote.
-Noel Brinkerhoff
To Learn More:
First Amendment, 'Patron Saint' of Protesters, Is Embraced by Corporations (by Adam Liptak, New York Times)
Corporate Speech and the First Amendment: History, Data, and Implications (by John C. Coates, IV, Harvard Law School)
The Right to Evade Regulation (by Tim Wu, New Republic)
Supreme Court Corporate Majority Continues to Support Chamber of Commerce Agenda (by Noel Brinkerhoff and Danny Biederman, AllGov)
Supreme Court is more "Corporative" than Conservative (by Noel Brinkerhoff and David Wallechinsky, AllGov)
If Corporations are People, Do They Count as Passengers in Carpool Lanes? (by Ken Broder, AllGov)