Conservatives Versus Soldiers in Case of Lieutenant Convicted of Murder
Friday, February 27, 2015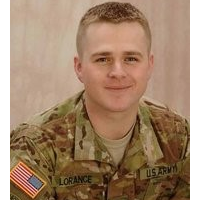 Clint Lorance (photo: Anna Lorance)
Conservative politicians and commentators have joined the chorus of online voices calling for clemency for an Army lieutenant convicted of killing three Afghan civilians. That group does not include members of the officer's platoon, one of whom says the lieutenant "had a taste for blood."
1st Lt. Clint Lorance ordered his men to fire upon three Afghans riding a motorcycle near a patrol on July 2, 2012. After two shots missed the Afghans, Lorance ordered a machine gun operator to open up on the three, who were walking away from the patrol. Two of the Afghans were killed; a third ran away.
In 2013, Lorance was found guilty of second-degree murder. He was originally sentenced to 20 years, but a year was subsequently knocked off his sentence. Since then, a campaign has been started on social media seeking Lorance's release, and the cause has been taken up by three Republican congressmen and Fox television commentator Sean Hannity.
The men in Lorance's platoon have a different view. They say that Lorance was aggressive from the moment he took over the platoon three days before the killings. "This isn't a soldier that went to war and gone done wrong. This is a soldier that had a taste for blood and wanted to have that fulfilled. And he did, but in the wrong way," one team leader, who asked for anonymity because he's still on active duty, told Army Times.
Lorance started with tough rhetoric the day he took over. "He looks like the all-American sweetheart when you meet him," Staff Sgt. Daniel Williams told The New York Times. "But he was just so aggressive. One of the first things he said to us was, we are going to go in Gestapo-style with night raids, pull people out of houses, make them afraid of us."
Lorance ordered sharpshooters to fire into the nearby village, with the rounds striking near civilians. In one case, he ordered a sharpshooter to torment a man by firing near his head and shoulders, boxing him in. He also ordered one of his men to fire near women and children but the soldier, Specialist Matthew Rush, refused.
The following day, Lorance told his men that the rules of engagement had changed and they were allowed to fire at any passing motorcycle. Records later showed that the rules had not been changed.
The day of the killings, a group of Afghan men came to the gate where Lorance's platoon was based, asking why the soldiers had fired into the village, but were turned away. Later Lorance ordered his men to fire on the villagers on the motorcycle. The team leader who spoke to Army Times said those men were the same ones who came to complain.
Lorance ordered villagers chased away from the bodies, but later reported that the bodies had been removed by villagers before they could be identified. And instead of having one of his men with the proper equipment check the bodies, Lorance had two others, without the equipment, perform the duty. When the bodies were searched, no weapons were found; only a pair of scissors, an identification card, some pens and three cucumbers, according to Dave Philipps of The New York Times.
As the soldiers returned from the patrol, "No one was really talking," Todd Fitzgerald, a former specialist and infantryman in Lorance's platoon, told Army Times. "We'd look at each other, and there was just a mutual feeling that what just happened was wrong, very wrong. There was a heavy feeling. I personally felt betrayal."
A spokesman for Rep. Duncan Hunter of California, one of the congressmen along with Arizona's Matt Salmon and Montana's Ryan Zinke fighting for Lorance's release, says his sentence is too harsh. "It might be true Lorance wasn't the Army's best soldier," Joe Kasper told the The New York Times. But the sentence, he said, "under the circumstances is excessive."
Fitzgerald has a different view. "We gave a lot, sacrificed a lot. To see it destroyed, that was bad enough," he said. "Every time a new story calling him a hero happens, I don't sleep. I lay down in my bed and close my eyes and lay there all night until the sun comes up."
-Steve Straehley
To Learn More:
Cause Célèbre, Scorned by Troops (by Dave Philipps, New York Times)
Hero or Murderer? Soldiers Divided in 1LT Lorance Case (by Michelle Tan, Army Times)