Commissioner of the Social Security Administration: Who Is Andrew Saul?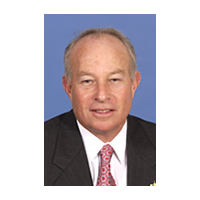 Andrew Saul
Andrew M. Saul, a New York businessman who attended the University of Pennsylvania at the same time as Donald Trump, was nominated April 12, 2018, by the president to a six-year term as the commissioner of the Social Security Administration.
Saul was born in New York on November 6, 1946. He did his undergraduate work at the Wharton School at Penn, earning a B.S. in 1968, just as Trump did.
After graduation, Saul took a job with Brooks Fashion Stores, a mid-range women's clothing chain. He became vice president for store operations, executive vice president and in 1980, president of the company. Saul's tenure as president was marked by millions of dollars in losses for Brooks.
In December 1986, Saul and his father, Joseph, bought a controlling interest in the high-end women's clothing company Caché, whose owners had filed for bankruptcy. Saul served on the board and was chairman of the company from February 1993 to October 2000. The same year he bought Caché, Saul formed the investment group Saul Partners.
Saul joined the board of New York's Metropolitan Transit Authority (MTA) in 1997 and in 2006 was appointed its vice chairman. He has been an MTA board member ever since. In 2003, he was chairman of the MTA audit committee when state and city comptrollers accused MTA of keeping two sets of books. While on the MTA 15-person voting board in 2005, Saul's was one of only two votes against a holiday fare reduction for transit riders.
Saul was a top fundraiser for George W. Bush, and was rewarded in 2002 with an appointment as chairman of the Federal Retirement Thrift Investment Board, which supervises 401-k-style retirement programs for federal employees, including the military. Saul tightened loan requirements for Thrift members and grew the fund while maintaining strict financial controls. He remained on the board until 2011.
In 2007, Saul entered the race for Congress from his home district in New York, and his deep pockets made the candidacy popular with the GOP. However, Saul dropped out of the race in November 2007 days after The New York Times reported that two of his campaign donors were bidding to build on MTA property. Saul also drew criticism for proposing transit fare increases.
Saul's personal life took a couple odd turns. As his daughter, Jennifer Saul Yaffa, was going through a divorce in 2009, Saul began eviction proceedings against the family, which was living in a Fifth Avenue co-op owned by a family trust. A court ruled against Saul. In 2012, he tried to get out of a trespassing charge by claiming he was a police commissioner. Saul was trying to ride a bicycle on a dam when told by a police officer that he was trespassing. Saul ignored the officer, who had to pull Saul off his bike. Saul produced a "courtesy card" he'd received through the MTA police. Despite all that, Saul wasn't ticketed.
Saul was an early backer of Jeb Bush in the 2016 election cycle and subsequently gave thousands of dollars to the Republican National Committee and associated campaign committees through the general election. He made a total of $261,627 in donations during the cycle.
In addition to Jennifer, Saul and his wife, Denise, have another daughter, Kimberly. Saul serves on the board of the right-wing Manhattan Institute for Policy Research. He collects art, including works by Andy Warhol.
-Steve Straehley
To Learn More:
Bicycling MTA Bigwig Gets Huffy With Cop (by Pete Donohue, New York Daily News)
NYC Return Makes B'way Actor Playful (Page Six)
Andrew Saul (Wikipedia)