Co-Chair of the President's Intelligence Advisory Board: Who is Shirley Ann Jackson?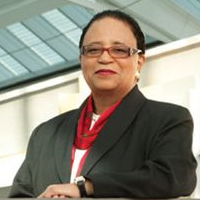 Shirley Ann Jackson (photo: Rensselaer)
Shirley Ann Jackson became co-chair of the President's Intelligence Advisory Board on August 29, 2014. The mission of the board, which was established in 1956 by President Dwight Eisenhower, is to keep the president apprised of the quality and adequacy of U.S. foreign intelligence efforts, including intelligence collection, estimates and analysis.
Jackson was born on August 5, 1946, in Washington, D.C. Her parents, George Hiter Jackson and Beatrice Cosby Jackson, were strong supporters of their daughter's education, especially in the area of science. Her fascination with the subject began during her elementary school years, when she would study bees in her backyard, observing their response to environmental changes. While Jackson's father assisted her with science class school projects, her mother would read her the biography of African-American scientist and mathematician Benjamin Banneker. Inspired, Jackson earned her way into accelerated math, science and language arts programs at Roosevelt High School, and she graduated in 1964 as valedictorian.
"There were two defining moments, a confluence of two historic events, which inspired me," Jackson explained in an interview with Vassar College's Alumnae/i newsletter. "The first was the Brown v. Board of Education decision that desegregated public schools and offered the opportunity to attend different schools. The second was the Soviet launch of Sputnik and the creation of the Space Race, leading to a greater focus on science and mathematics, particularly in public schools."
At the urging of her high school's assistant principal for boys, Jackson applied to and was accepted by MIT, becoming one of fewer than 20 African-American students at the university and the only one to study theoretical physics. Her thesis was on the subject of solid-state physics, earning her an S.B. degree in 1968. During her studies at MIT, she worked as a volunteer at Boston City Hospital and as a tutor to students at the Roxbury YMCA. In pursuit of a doctoral degree, Jackson applied to the University of Chicago, Harvard University and Brown University. She was accepted by all three, but chose to remain at MIT to encourage more African-American attendance. Her thesis on elementary particle theory earned her a Ph.D. in 1973, the first African-American woman to do so at that institution and only the second in the U.S. to earn a doctorate in physics.
During the 1970s, Jackson conducted post-doctoral studies on subatomic particle at physics labs in both Europe and the U.S. She began as a research associate at the Fermi National Accelerator Laboratory (Fermilab) in Illinois, then was a visiting scientist at Switzerland's European Organization for Nuclear Research (CERN) in 1974 and at Aspen Center for Physics in 1976-1977.
In 1976, Jackson was recruited by the AT&T Bell Laboratories to work in its Theoretical Physics Research Department. In 1978, she joined the firm's Scattering and Low Energy Physics Research Department, and in 1988 she transferred to its Solid State and Quantum Physics Research Department. The work that Jackson performed at Bell Labs during a period of nearly two decades has been credited with the development of fiber optics, caller ID and call waiting for phones.
Between 1980 and 1982, Jackson served as president of the National Society of Black Physicists. In 1985, New Jersey Governor Thomas Kean appointed her to the state Commission on Science and Technology. In 1991, she joined the faculty at Rutgers University, where she taught theoretical physics through 1995, concurrently serving as a consultant to Bell Labs on semiconductor theory. In 1994, Jackson was a member of the U.S. Department of Energy task force studying the future of its National Laboratories. She also served on committees of the National Research Council of the National Academy of Sciences.
In 1995, President Bill Clinton appointed her to head the Nuclear Regulatory Commission, a position she held until 1999. On July 1 of that year, she became the 18th president of the Rensselaer Polytechnic Institute (RPI). She was the first female and first African-American to serve in each of those positions. With a 2009 contract renewal to continue as RPI president to 2020, Jackson has been one of the highest-paid university presidents in the U.S. Her work has included the spearheading of a successful billion-dollar fundraising campaign and securing for the university, in 2001, a $360 million anonymous gift—one of the largest ever given to a university in the United States.
Jackson's tenure at RPI has not been without controversy, however, as her ever-increasing salary and benefits (they reached a combined high of $2.34 million in 2010) have caused some to question whether keeping her in the position was worth the cost, and if in fact that cost was pulling RPI deeper into debt. Fueling that debate were such additional expenses as a multi-million-dollar residence, guest house and other homes; staff, aides and bodyguards; and an extravagant, star-studded 2009 anniversary "celebration weekend." By the skin of her teeth, Jackson squeaked past an RPI "no confidence" vote that was taken in April 2006 following an email campaign launched by disgruntled faculty members expressing "concern over management and allocation of the institute's resources."
In 2008, Jackson became the university vice chairman of the non-profit U.S. Council on Competitiveness, and in 2009, President Barack Obama appointed her to serve on the President's Council of Advisors on Science and Technology (PCAST), a post she held until 2014. She was also made co-chair of the President's Innovation and Technology Advisory Committee within PCAST. During this time, she spent two years on the National Commission for the Review of the Research and Development Programs of the U.S. Intelligence Community, service that led to her appointment as co-chair of the President's Intelligence Advisory Board in 2014.
Jackson serves on the U.S. Secretary of State's International Security Advisory Board, the U.S. Secretary of Energy Advisory Board, and the U.S. Comptroller-General's Advisory Committee for the Government Accountability Office. She also serves on the boards of directors or board of regents of numerous businesses and organizations, including FedEx Corporation (since 1999), Huntington Ingalls Industries (since 2000), Public Service Enterprise Group (since 2001), Sanmina Inc. (since 2001), Medtronic (since 2002), IBM (since 2005), the Smithsonian Institution (since 2005), the Brookings Institution (since 2000) and the Council on Foreign Relations. She also served on the boards of directors of United States Steel (2001 to January 31, 2006), the New York Stock Exchange (2003-2009), and Marathon Oil Corporation (2000 to April 29, 2015). She has been awarded 53 honorary doctorates, and is the author or co-author of more than 100 scientific articles.
On May 19, 2016, President Obama awarded Jackson the National Medal of Science, the nation's highest honor for contributions in science and engineering.
Reflecting on her life, Jackson gives much credit to her father for the inroads she's made and the successes she's achieved. She recalled his telling her to always do the best you can in each job in order to get to the next best job, in spite of encountering "overt discrimination or discouragement," she told Allie Bidwell of the National Science and Technology Medals Foundation. That advice was there for her when, as a student, Jackson approached a physics professor about majoring in physics. He discouraged her, saying, "Colored girls should learn a trade." Looking back to that day, Jackson says, "That certainly stung, but I had to decide whether I was going to give in to that. I made that choice, and that's how I became a theoretical physicist."
Jackson and her husband, RPI physics professor Morris A. Washington, have a son, Alan.
-Danny Biederman
To Learn More:
How Dr. Shirley Ann Jackson Defied Gender and Race Barriers to Become the Ultimate Role Model in Science (by Joyce Riha Linik, iQ)
Q&A: The University of the Future Must Break Down Walls between Disciplines (by Shirley Ann Jackson, World Economic Forum)
Building on Dreams: Dr. Shirley Ann Jackson's Path of Firsts (by Allie Bidwell, National Science and Technology Medals Foundation)
5 Questions: RPI President Shirley Ann Jackson (Alumnae/i, Vassar College)
America's Highest Paid College President is Dragging Her School into Crippling Debt (by Meredith Hoffman, Vice News)
23 Private College Presidents Earn More Than $1 Million (by Noel Brinkerhoff, AllGov)
Q&A with Shirley Ann Jackson (C-SPAN—video)
Jackson Appearances on C-SPAN (videos)
Science Series (Discussion includes Shirley Jackson—video, Charlie Rose, PBS)
Biography (Rensselaer Polytechnic Institute)
Biography (Bloomberg)