Citibank Study Finds Huge Financial Benefits to Acting on Climate Change
Thursday, September 03, 2015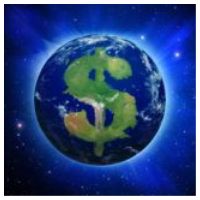 (graphic: Jeremy Culp Design, Getty Images)
Reducing carbon emissions and thus the effects of global warming can be financially beneficial for the business community, according to one of the biggest banks in the world.
A division of Citibank, Citi Global Perspectives & Solutions (GPS), has produced a report that compared two scenarios for corporations on the issue of climate change: "Inaction," doing nothing to reduce emissions, and "Action," working to cut carbon in the atmosphere. The analysis showed it would be cheaper to take action.
Yes, making changes would cost $190.2 trillion, the report says, but doing nothing would cost $192 trillion.
Taking action would be cheaper "due to the rapidly falling costs of renewables, which combined with lower fuel usage from energy efficiency investments actually result in significantly lower long-term fuel bill," Dana Nuccitelli wrote at The Guardian. Nuccitelli added that investing in changes that reduce the impact of climate change could lessen its financial implications for businesses.
"The difference in climate damage costs between low (1.5°C) warming and high (4.5°C) warming scenarios could be as high as $50 trillion. Even moderate (2.5°C) warming could cost $30 trillion less than a business-as-usual high global warming scenario," Nuccitelli wrote.
These results don't mean that big business will see the light and begin to cut carbon emissions. Fossil fuel companies, particularly those in the coal industry, have a big stake in pulling their dirty fuel out of the ground and making money while they can.
-Noel Brinkerhoff
To Learn More:
Citi Report: Slowing Global Warming Would Save Tens of Trillions of Dollars (by Dana Nuccitelli, The Guardian)
Big Bank Says It's Going To Cost A Lot To Do Nothing On Global Warming (by Samantha Page, ThinkProgress)
Energy Darwinism II: Why a Low Carbon Future Doesn't Have to Cost the Earth (by Jason Channell, Elizabeth Curmi, Phuc Nguyen, Elaine Prior, Alastair R. Syme, Heath R. Jansen, Ebrahim Rahbari, Edward L. Morse, Seth M. Kleinman and Tim Kruger, Citigroup)
World's Largest Insurance Company Blames 30% of New York's Superstorm Sandy Losses on Climate Change (by Noel Brinkerhoff, AllGov)