Chief of U.S. Border Patrol: Who Is Ron Vitiello?
Wednesday, February 22, 2017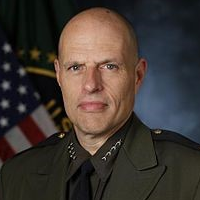 Ron Vitiello
Ron Vitiello, a career member of U.S. Border Patrol, was named by President Donald Trump as the agency's chief on February 1, 2017.
Vitiello joined the Border Patrol in 1985 in Laredo, Texas. He worked his way up through the ranks, moving to the Dallas office in 1997, when he helped oversee implementation of Operation Rio Grande, which involved a surge of Border Patrol agents along the Texas and New Mexico borders with Mexico; Tucson, Arizona, where he served as community relations officer in 2000; Washington in 2002; Vermont in 2006, where he was the chief patrol agent for the Swanton Sector; and Texas in 2008, where he held a similar post in the Rio Grande Valley Sector.
While Vitiello was in the Rio Grande Valley, the George W. Bush administration was working to complete a border fence in the region. The planned fence would have cut through the campus of the University of Texas-Brownsville, which has a bi-national mission as part of its charter.
University officials met with Vitiello to try to get some accommodation on the fence, but Vitiello told them the meeting was a waste of time. "He wanted to stop the conversation instantly," Michael Putegnat, a consultant hired by the university, told the Associated Press.
Vitiello returned to Washington in 2010 as Border Patrol's deputy chief. On May 12, 2014, he was put in charge of the Department of Homeland Security's efforts to deal with the rise in children illegally crossing into the United States. He was named acting chief of the agency in 2015, but was passed over for the spot on a permanent basis when then-President Barack Obama appointed Mark Morgan to lead the Border Patrol. Morgan left the agency shortly after Trump signed an executive order promoting his border wall. Vitiello had the support of the National Border Patrol Council, the patrol union which had strongly backed Trump during his presidential campaign. Vitiello was appointed to the top spot less than a week later.
Vitiello's wife, Nuri, is active in Border Patrol charities, including The Real Housewives of B.P., of which she was a founding member. They have an adult daughter, Alexis.
-Steve Straehley
To Learn More: