Chemical Plant Explosion in Louisiana, Ebola in Atlanta=Fake Stories Spread by Russian Propaganda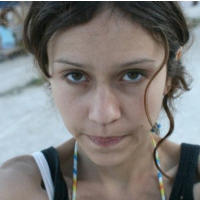 Ludmila Savchuk (photo: Ludmila Savchuk)
On the outskirts of St. Petersburg, Russia, is a propaganda machine that loves to make trouble for Americans and others.
About 400 people working for the Russian government generate phony news stories—some quite convincing—using social media sites. From inside a large warehouse, these writers and graphics specialists put together elaborate hoaxes to stir worry and perhaps even panic among Westerners.
Last year, residents of St. Mary Parish, Louisiana, started receiving text messages that a nearby chemical plant had released toxic fumes. Tweets describing an explosion also began to show up in Twitter feeds. The messages seemed authentic, using a company name similar to that of an actual facility. The text message cited Columbia Chemical, while Columbian Chemicals operates in the area.
The Louisiana chemical hoax "was just one in a wave of similar attacks during the second half of last year," according to The New York Times Magazine.
Ludmila Savchuk, who once worked for the organization that produced the hoaxes, has revealed details of the program. She told Der Spiegel that workers have a quota to write a certain number of items, sometimes involving hoaxes, other times articles describing how terrible conditions are in the European Union. Ukraine is also a target. Other articles praise Russian leaders.
In December, the trolls used Twitter and phony news reports and videos to try to scare people of Atlanta into thinking there was an Ebola outbreak. Phony tweets were accompanied by a YouTube video showing a hazmat team transporting a victim from the airport, all while Beyoncé's single "7/11" played in the background to lend an air of authenticity.
On the same day, other tweets began to describe a police shooting of an unarmed black woman. Both incidents were ginned up by the same arm of the Russian government.
-Noel Brinkerhoff, Steve Straehley
To Learn More:
The Agency (by Adrian Chen, New York Times)
Paid as a Pro-Kremlin Troll: 'The Hatred Spills over into the Real World' (by Benjamin Bidder, Spiegel Online)
The Trolls Who Came in from the Cold (by Viktor Rezunkov, Radio Free Europe)