Chairman of the Surface Transportation Board: Who Is Ann Begeman?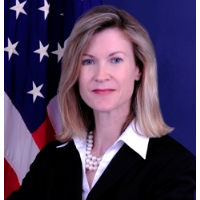 Ann Begeman
Ann Dawn Begeman, who was made a member of the Surface Transportation Board (STB) in 2011, was designated as its chairman on March 19, 2018, having been its acting chairman since President Donald Trump took office. The board, part of the Department of Transportation, regulates the rail freight and pipeline industries.
Begeman was born April 18, 1964, in Sioux Falls, South Dakota, to Peggy and Roger Begeman. She grew up on a dairy farm south of nearby Humboldt and graduated from West Central High School in 1983. She earned a B.S. in business administration from the University of South Dakota in 1986.
After graduation, Begeman began work as a legislative assistant to then-Sen. Larry Pressler (R-South Dakota). In 1988, Begeman left to be a benefits specialist at American Bankshares, but returned to Pressler's office in 1992. In October 1995, she moved to the Senate Commerce Committee as a staffer when Pressler took over as its chairman, becoming the deputy staff director before leaving in 2004 for the staff of Sen. John McCain (R-Arizona). Begeman served as his legislative director and acting chief of staff, and she took a leave to work as a campaign spokesman during McCain's unsuccessful 2008 run for the presidency.
Begeman returned to the Commerce Committee in May 2009, rising to be the Republican staff director. She played a key role in creating the board which she now chairs when she helped craft the ICC Termination Act, which did away with the Interstate Commerce Commission and created the STB.
Nominated by President Barack Obama on December 20, 2010, on May 2, 2011, Begeman took a seat on the Surface Transportation Board, immediately serving as vice chairman until January 2012. She was nominated to a second five-year term before Obama left office.
Since taking over the board, one issue Begeman has had to face is complaints from shippers who have been left stranded by railroads cutting service to save money.
-Steve Straehley
To Learn More: