Chairman of the Nuclear Regulatory Commission: Who Is Kristine Svinicki?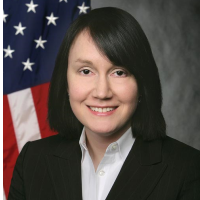 Kristine Svinicki
Kristine L. Svinicki, a long-time member of the Nuclear Regulatory Commission (NRC), was appointed on January 23, 2017, by President Donald Trump to be its chairman.
One of seven children, Svinicki was born September 6, 1966, in Jackson, Michigan. She lost her parents, Emil and Jane, as a teenager. However, she was inspired by them to earn a degree in nuclear engineering from the University of Michigan in 1988, after studying at Jackson Community College. Her father, Emil, grew up on a farm and later became an architect.
Svinicki's professional career has been entirely in the public sector. She started as an energy engineer for the Wisconsin Public Utilities Commission. She moved to the federal Department of Energy (DOE)'s Idaho Operations Office in Idaho Falls in 1990. In May 1994, she transferred to Washington D.C., working in DOE's Office of Civilian Radioactive Waste Management, collecting technical information related to federally-owned radioactive waste. In January 1997, she moved to the Office of Nuclear Engineering, Science and Technology.
While continuing to work as a nuclear engineer, Svinicki in January 1997 also began working in the office of Sen. Larry Craig (R-Idaho). She became Craig's senior policy adviser and remained in that position until January 2005. Craig tried to get Svinicki appointed to the NRC in 2003, but then-President George W. Bush went in a different direction. She moved over to the Senate Armed Services Committee, working under Chairman John Warner (R-Virginia) and subsequently for ranking member John McCain (R-Arizona). Her specialties were defense science and technology programs and policies, nuclear weapons, nuclear security and environmental programs.
Bush finally appointed Svinicki to the NRC in 2008, but in the process she had her first run-in with Sen. Harry Reid (D-Nevada). Reid wanted to ensure that one of his former staffers, Gregory Jaczko, was reappointed to the commission, and held up the nomination until the appointments were joined.
Svinicki gained a reputation for keeping her head down and working long hours as a commission member. In 2011, she joined three other commissioners in accusing Jaczko, by this time the chairman of the NRC, of being a bully. He stepped down the following year.
Svinicki was up for reappointment in 2012 and then-President Barack Obama was set to make the nomination until Reid jumped into the fray again. Reid's objection to Svinicki was her support of the Yucca Mountain nuclear waste dump, which Reid strongly opposed. Svinicki was eventually reappointed to the commission. Her latest term is scheduled to end on June 30, 2017.
-Steve Straehley
To Learn More:
NRC: On the Verge of a Second Term, Svinicki Attracts Great Praise but Remains an Elusive Figure (by Hannah Northey, E&E News)
Acceptance of Waste for Disposal in the Potential United States Repository at Yucca Mountain, Nevada (by Kristine Svinicki, Proceedings of the Embedded Topical Meeting on DOE Spent Nuclear Fuel & Fissile Material Management)