Chairman of the Federal Communications Commission: Who Is Ajit Pai?
Friday, February 17, 2017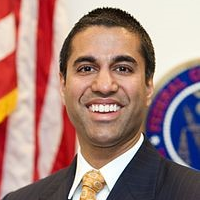 Ajit Pai
Ajit Pai, who has been a member of the Federal Communications Commission (FCC) since 2012, took over as chairman on January 23, 2017.
Pai was born in Buffalo, New York, on January 10, 1973, to Radha and Varadaraj Pai, both physicians. The family soon moved to Parsons, Kansas, where the elder Pais worked at the county hospital.
Pai attended Harvard and earned a B.A. in social studies in 1994 and went on to the University of Chicago law school, where he earned his J.D. in 1997. After graduation, Pai clerked for federal Judge Martin L.C. Feldman in the Eastern District of Louisiana.
In 1998, Pai went to work as a trial attorney for the Department of Justice's antitrust division, in its telecommunications task force, where he worked on what was then the largest merger in U.S. history, between Sprint and WorldCom. Pai left federal service in 2001 to become associate general counsel for Verizon.
Pai returned to the government, this time the Senate, in 2003, when he served as deputy chief counsel on the Judiciary Committee on the Subcommittee on Administrative Oversight and the Court under then-Chairman Jeff Sessions (R-Alabama). The following year, he was back in the Justice Department as senior counsel in the Office of Legal Policy. Pai returned to the Judiciary Committee in 2005 as chief counsel to the Subcommittee on the Constitution, Civil Rights, and Property Rights under then-Chairman Sam Brownback (R-Kansas).
Pai moved to the FCC in 2007, as special adviser to the general counsel, associate general counsel and deputy general counsel. In 2011, he returned to private practice, this time with the law firm of Jenner and Block as a partner, working there until getting a seat on the FCC.
When Pai took over as FCC chairman, he couldn't wait to roll back consumer protections enacted under the Obama administration. His actions, many done late on a Friday with virtually no public notice, included:
· Declaring that the FCC would not defend its rule capping intrastate prison phone charges. Such charges run over $1 a minute in some cases, and under the Obama administration, rules were set to cap them at 11 cents a minute. Now prisons will be free to jack up those rates, hurting prisoners' families who usually can ill-afford such charges.
· Beginning to erode net-neutrality rules when he closed an investigation into zero-rating practices of some wireless providers, including his old employer, Verizon. Zero-rating allows a provider to offer free streaming of some services, forcing users to pay more when using a competitor.
· Forbidding nine providers from joining those allowed to offer discounted internet service for the poor. The founder of one of the nine, Kajeet, told The Los Angeles Times: "I'm most concerned about the children we serve," Daniel Neal said. "We partner with school districts—41 states and the District of Columbia—to provide educational broadband so that poor kids can do their homework."
· Killing an attempt to open the cable-box market so that consumers aren't forced to pay monthly rental fees to TV providers that far outweigh the cost of the equipment.
"With these strong-arm tactics, Chairman Pai is showing his true stripes," Matt Wood, policy director at the consumer group Free Press, told The New York Times. "The public wants an FCC that helps people. Instead, it got one that does favors for the powerful corporations that its chairman used to work for."
Pai is married to Janine Van Lancker, an allergist-immunologist. They have two children: Alexander and Annabelle.
-Steve Straehley
To Learn More:
FCC Stops 9 Companies From Providing Poor Federally Subsidized Internet (by Allen Cone, UPI)
Trump's FCC Quickly Targets Net Neutrality Rules (by Cecilia Kang, New York Times)
FCC Made a Case for Limiting Cost of Prison Phone Calls. Not Anymore. (by Ann E. Marimow, Washington Post)
Nominations of Jessica Rosenworcel and Ajit Pai to the Federal Communications Commission (Committee on Commerce, Science, and Transportation)