Chairman of the American Battle Monuments Commission: Who is Merrill "Tony" McPeak?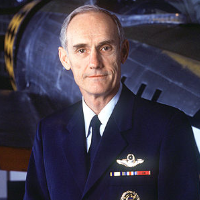 Merrill McPeak
Former U.S. Air Force chief of staff Merrill Anthony "Tony" McPeak was named chairman of the American Battle Monuments Commission on June 3, 2011. Established in 1923, the commission administers and maintains overseas U.S. war monuments and military cemeteries where almost 125,000 American servicemen, largely from World War I and the European Theater of World War II, are buried.
McPeak was born on January 9, 1936, in Santa Rosa, California. He attended Grants Pass High School in Grants Pass, Oregon, and in 1957 he earned a B.A. in economics at San Diego State College, California. That November he entered active duty with the Air Force ROTC.
After a stint as an instructor pilot and weapons officer at Luke Air Force Base, Arizona, he was assigned as a solo pilot with the Air Force's aerobatic flying team, the Thunderbirds. Between December 1966 and December 1968, he performed in 200 air shows with the group, both in the United States and overseas. McPeak was then shipped off to South Vietnam, where he served as an attack pilot and high-speed forward air controller during the Vietnam War. He completed 269 combat missions during his Vietnam tour, which ended in 1970.
"The tendency to base decisions on myth rather than fact is a special danger for politicians, who must make a career of fooling others," McPeak told Time, reflecting on that war 42 years later. "Lyndon Johnson seemed incapable of an objective analysis of what was happening in Southeast Asia. He believed what he said, what he wanted to believe, ignoring the altogether too obvious evidence at hand. But military leaders, whose sterner training is meant to provide a firm grounding in reality, can fall into this trap also, as [Gen. William] Westmoreland did. And when a senior military leader becomes delusional, lives are at risk immediately and on a large scale. The result is a sort of Greek tragedy, which is how I see the Vietnam War."
Upon his return to the U.S. from Vietnam in 1970, McPeak joined the U.S. Air Force's Washington headquarters as an air operations staff officer for its Mideast division, working there until 1973 while attending Armed Forces Staff College in Norfolk, Virginia. In 1974 he graduated from the National War College in Washington, D.C., and earned an M.A. in international relations from George Washington University. He was thereafter named assistant deputy commander for operations for the 1st Tactical Fighter Wing at MacDill Air Force Base in Florida.
Between 1975 and 1976, McPeak served as a military fellow with the Council on Foreign Relations. In July 1976, he became commander of the 513th Combat Support Group based at RAF Station Mildenhall. He next moved to Spain to serve as vice commander of the 406th Tactical Fighter Training Wing at the Zaragoza Air Base. Two years later, McPeak was off to Boerfink, West Germany, where he served as assistant chief of staff for current operations for Allied Air Forces, Central Europe. In 1980, he commanded the 20th Tactical Fighter Wing, based at RAF Station Upper Heyford in Oxfordshire, England.
From 1981 to 1982, McPeak served as chief of staff at USAFE headquarters, and from 1982 to 1985 he was deputy chief of staff for plans at TAC headquarters at Langley Air Force Base in Virginia. He then returned to USAF headquarters where, between 1985 and 1987, he served as deputy chief of staff for programs and resources. In June 1987, he once again relocated, this time to Texas where, at the Bergstrom Air Force Base, he held the joint positions of 12th Air Force commander and commander of Air Forces for United States Southern Command. The following year he became commander-in-chief of Pacific Air Forces PACAF.
In October 1990, during the run-up to the U.S.-led Persian Gulf War, McPeak was appointed Air Force chief of staff by then-Secretary of Defense Dick Cheney, who had abruptly removed former chief of staff General Michael Dugan after a controversial remark Dugan made to the press about the targeting of Iraq leader Saddam Hussein. In his new post, McPeak had a hand in the strategic planning of the combat phase of the war, codenamed Operation Desert Storm. Years later, as part of his response to an American Spectator article criticizing McPeak's stance on Israel, McPeak—a one-time election-year co-chairman of Oregon Veterans for Bush—cited his opposition to the 2003 U.S. invasion of Iraq: "I was a vocal opponent of the George W. Bush Administration's decision to invade Iraq, a strategic blunder made worse by slapdash execution. As we have seen, this star-crossed action took our eye off the ball in Afghanistan, breathed new life into a moribund al Qaeda, and enhanced Iranian influence in this critical region—all outcomes which damaged both the United States and our ally Israel."
For three weeks in 1993, McPeak—a member of the Joint Chiefs of Staff—also served as acting secretary of the Air Force, the only Air Force chief of staff and active-duty Air Force officer to have done so.
That year, McPeak held an unusual news conference at the Pentagon to announce his firing of a two-star Air Force general who had made disparaging remarks about then-President Bill Clinton. After Major General Harold N. Campbell called Clinton a "dope smoking," "skirt chasing," "draft dodging" commander-in-chief, McPeak said Campbell would be fined $7,000, receive a letter of reprimand and be retired from his position. "This is not a trivial matter," McPeak told the press. "The chain of command has to be almost pollution free. It runs from the President all the way down to the corporal who pulls the trigger." Fifteen years later, McPeak called Clinton unpatriotic—even accusing him of using the tactics of Joe McCarthy—for a remark Clinton made about then-Senator Barack Obama during Obama's run for the Democratic presidential nomination against opponent Hillary Clinton.
McPeak remained as chief of staff until October 25, 1994, signaling his retirement from the Air Force. To some, his tenure had been a controversial one, given a perceived favoritism toward pilots at the expense of non-pilot personnel, and a management style that sought corporate-like reorganization which was often met with resistance by a tradition-bound military community.
"General McPeak retired from active duty in 1994, but even today, Air Force veterans of that era still shudder at the changes he tried to impose," wrote an Air Force vet posting as George Smiley in December 2007 on the blog "In from the Cold." "Many of us recognized the 'reorganization' for what it was—nothing more than a shell game, designed to preserve command billets for the pilot community… McPeak and his minions also had the bright idea of consolidating operations and maintenance functions under flying squadron commanders… As you might expect, the "merger"…created numerous headaches, and more than a few maintenance officers got passed over for promotion, usually because their boss—the flying squadron commander—favored aircrew personnel in the appraisal and selection process."
Oddly, McPeak is well remembered by senior Air Force personnel not only for his daring combat missions and leadership resume, but for a controversial uniform design that he put into effect in 1991. The most sweeping change in Air Force service dress uniforms since 1948, the new design proved to be a misfire with service members, who refrained from making the change as long as possible during the four-year uniform transition period. The Air Force released a collective sigh of relief when McPeak retired in 1994 and, within a week's time, the uniform requirement was lifted. Considered the Edsel of military uniforms, the garb was officially named after General McPeak.
In 1995, McPeak entered the private sector as he founded, and became president of, the management consulting firm, McPeak & Associates. He served as Oregon state chairman for the 1996 Bob Dole for President campaign, an adviser to John Kerry's 2004 presidential campaign and, in 2008 and 2009, national co-chairman of Obama for President. During the first Obama administration, in July 2010, he was appointed as a member of the American Battle Monuments Commission, and a year later became its tenth chairman.
McPeak has served as either chairman, CEO or director of ECC International (November 1997 to October 2003), EthicsPoint (2003-2012), Gigabeam Corp. (2004-2009), MathStar (2005-2010), DGT Holdings Corp. (since 2005), Point Blank Solutions (2008-2011), Miller Energy Resources (2010-2014), Research Solutions (since 2010), Mosquito Consolidated Gold Mines (December 2011 to July 2012), Coast Plating (January 2012 to December 2014), Lion Biotechnologies (acting CEO, January 2013 to July 2013), Genesis Biopharma (acting CEO, January 2013 to September 2013) and Lilis Energy (since January 29, 2015). He also served on the boards of directors for TWA and Tektronix, and was vice chairman of QPC Lasers (2006-2009).
McPeak lives in Lake Oswego, Oregon, with his wife Elynor, who serves as a member of the Lake Oswego City Council.
-Danny Biederman
To Learn More:
Interview with Merrill McPeak (Veterans History Project, Library of Congress)
Interview with Merrill McPeak (by Dave Weich, GeneralMcPeak.com)
Air Force Capt. Tony McPeak, Over Vietnam (by Mark Thompson, Time)
Video Interviews with Merrill McPeak (General McPeak.com)
Official Biography (U.S. Air Force, 1994)