Chair of the Woodrow Wilson International Center for Scholars: Who Is Thomas Nides?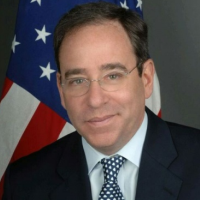 Thomaas Nides
Tom Nides has been chair of the board of the Woodrow Wilson International Center for Scholars (Wilson Center) since September 2013. The Wilson Center is an academic institution that sponsors fellowships and programs linking policies and ideas through research and dialog. It would be completely defunded under President Donald Trump's proposed budget.
An active Wall Street Democrat, Nides raised more than $100,000 as a Hillary Clinton bundler in 2008, and provided informal advice to her 2016 run. When Wikileaks released hacked Clinton campaign emails in July 2016, it revealed that Nides had advised Clinton campaign Chair John Podesta in March 2015 to "pull the official" emails off of Clinton's private server, exclaiming that "you know as well as I every god damn cabinet officer and WH staff uses there (sic) gmail account!" Later that year, he twice gave Podesta advance word about embargoed polls, possibly getting the information from his wife, Virginia Moseley, who is the Washington deputy bureau chief and vice president for CNN.
Thomas R. Nides was born in 1961 in Duluth, Minnesota, the youngest of eight children born to Shirley (Gavronsky), a teacher, and Arnold R. Nides, who owned a consumer lending company, and was president of Temple Israel and the Duluth Jewish Federation. In 1979, Nides scored a coup when he got Vice President Walter Mondale to speak at his Duluth East High School graduation.
Nides earned a B.A. in political science at the University of Minnesota-Twin Cities in 1983. After his freshman year, he spent the summer of 1980 as a Mondale intern. Four years later, Nides was the Minnesota field director for Mondale's 1984 presidential campaign.
After graduating, Nides leveraged his political work and contacts into a pair of jobs for prominent Congressmen. From 1986 to 1989, Nides was chief of staff for House Majority Whip Tony Coelho (D-California), and then chief of staff for House Speaker Tom Foley (D-Washington) from 1989 to 1993.
In 1994, he served as chief of staff for United States Trade Representative Mickey Kantor.
Heading to Wall Street for the first time, Nides was head of corporate affairs at Dean Witter Discover & Co. from March 1996 to June 1997, leaving shortly after Dean Witter merged with Wall Street investment bank Morgan Stanley.
Not happy with life in New York, Nides returned to Washington to join Fannie Mae as senior vice president of human resources in June 1997, holding this position until April 2001. During that time, Nides took a leave of absence to manage the 2000 vice presidential campaign of Senator Joseph Lieberman, then a Democrat.
Returning to the private sector, Nides was chief administrative officer at Credit Suisse/First Boston USA from June 2001 to June 2004; president & CEO of PR firm Worldwide Burson-Marsteller from November 2004 to August 2005; and chief operating officer of Morgan Stanley from September 2005 to January 2010.
Nides went back to public service in January 2011, serving as deputy secretary of state for management and resources until February 2013, when he returned to Morgan Stanley as vice chairman.
Nides serves on the board of the Urban Alliance Foundation and the Atlantic Council; he is also a member of the Council on Foreign Relations.
Thomas Nides and Virginia Moseley have been married since 1992. They have two children.
-Matt Bewig
To Learn More:
The Democrats' Fight Over Finance: Movement between Wall Street and Washington is as Old as the Republic, but this Year a Resurgent Left is Pushing Back (byAlec MacGillis, New Yorker)
Wall Street Fixer Goes to Washington: From John Mack to Hillary Clinton, Tom Nides is an Expert at Making Himself Useful to Powerful People (by Dan Freed, The Street)