Chair of the Presidio Trust: Who Is Paula Collins?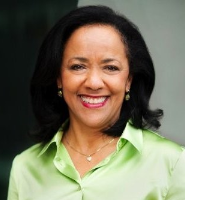 Paula Collins
Paula Robinson Collins, a San Francisco real estate developer, was appointed to the board of the Presidio Trust by President Barack Obama in June 2012 and reappointed in June 2015, at which point she took over as the board's chair. The Presidio Trust is a federal corporation created by Congress to manage the Presidio of San Francisco, which was designated a National Historic Landmark in 1962. The oldest continuously operated military post in the United States, the Presidio of San Francisco was a military base for 218 years, from the time Spain established El Presidio in 1776, until the Army, in 1994, transferred it to the National Park Service.
Collins is from Washington D.C. She attended Mount Holyoke College, earning a B.A. in urban studies in 1971 and then a master's in city planning from Massachusetts Institute of Technology in 1975. Her thesis was titled "Revenue Sharing: Minorities and the Poor," and examined the effect of federal revenue sharing on underserved communities.
Collins worked in the early part of her career in the property and facilities division of United Airlines and general manager for real estate developer Daon Corporation's Northern California regional office.
Collins and her husband, Chuck, in 1987 founded The Western Development Group, launched the following year as WDG Ventures, a real estate development company in San Francisco. They helped develop the Moscone Convention Center and the company has worked on large hotels, medical centers and other projects. Collins is the chief executive officer of WDG. In 1987 she became a director of Tahoe Savings and Loan, a new chartered federal mutual association. In 1993, she joined the board of directors of Bay View Capital Corporation, leaving in 2002. She began a three-year term on the board of the California State Automobile Association and Inter-Insurance Bureau in 1997. She was also a member of the Advisory Council of the Federal Reserve Bank of San Francisco. In 2004, she formed Portfolio Real Estate Consulting, which provides development management services.
Collins was one of the founding directors in 2006 of Presidio Bank, a business bank in the San Francisco Bay area and continues to serve on its board. In May 2015, Collins joined the national board of the American Automobile Association as secretary.
Chuck Collins left WDG in 2002 and is president and CEO of the San Francisco YMCA. He served in the 1970s and 1980s as deputy secretary of the Business, Transportation and Housing Agency for the State of California under Gov. Jerry Brown (D). The Collins have two adult daughters, Julia Collins, co-founder and CEO of Zume Pizza, and Sara Dereath Collins, a cardiologist in Washington DC.
-Steve Straehley, David Wallechinsky
To Learn More: