Côte d'Ivoire Ambassador to the United States: Who Is Haïdara Mamadou?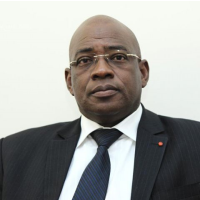 Haïdara Mamadou
Haïdara Mamadou was appointed to be ambassador to the United States from Côte d'Ivoire on February 28, 2018, and he presented his credentials to President Donald Trump on March 28, 2018. He replaced Daouda Diabaté.
This is not Haïdara's first assignment in Washington. He previously served as commercial counselor and director of Côte d'Ivoire's economic office at the embassy there.
Haïdara is president of the think tank Cercle Libéral de Côte d'Ivoire. He also has served as chairman of the board of SONITRA (Société nationale ivoirienne de travaux), a public-private partnership that undertakes public works projects, such as roads, bridges and other infrastructure, in Côte d'Ivoire.
Haïidara is married to Aïssata Keita Haidara.
-Steve Straehley
To Learn More:
Haidara Mamadou New Ambassador of Côte d'Ivoire to the United States (Abidjan.net)