Bush Illegal Wiretapping Program Almost Prompted FBI and Justice Resignations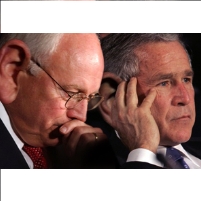 President George W. Bush's insistence on continuing the warrantless wiretapping program in 2004 almost forced the resignations of some of top law enforcement officials in the administration, according to federal inspectors of the government's top intelligence agencies. The report by the inspectors general of the CIA, Pentagon, National Security Agency and other offices reveals that multiple officials in the Department of Justice, including Attorney General John Ashcroft and FBI Director Robert Mueller, were seriously considering stepping down because Bush was adamant about maintaining the domestic spying program without approval from the Justice Department.
Mueller said he was inclined to withdraw the FBI from participation in the surveillance program, and if President Bush had insisted on the bureau's continued involvement, he would have stepped down as director.
-Noel Brinkerhoff