Burkina Faso's Ambassador to the United States: Who Is Seydou Kaboré?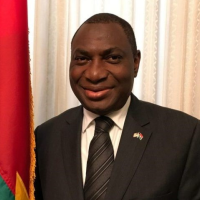 Seydou Kaboré
Seydou Kaboré, an economist, was appointed Burkina Faso's ambassador to the United States on September 14, 2016, and officially assumed his responsibilities in the post on January 18, 2017. He is also accredited to Mexico.
Kaboré attended secondary school at Lycée Technique of Abidjan, in neighboring Cote d'Ivoire and graduated in 1980. He returned to Burkina Faso and earned a bachelor's degree (in 1983) and master's (1984) in business administration from the University of Ouagadougou.
The following year, Kaboré started at the Bank for the Financing of Trade and Investments as a corporate customer service manager. In 1992, he was named deputy commercial credit manager and in 1995 Kaboré was made senior manager.
Later that year, Kaboré left the bank to serve as director general of Faso Baara, a project management and construction company. Faso Baara builds buildings, roads, hydro-agricultural projects and other infrastructure for the Burkina Faso government with an eye toward creating jobs.
In 2008, Kaboré was named Burkina Faso's minister of infrastructure and road development under Tertius Zongo, who was then prime minister of the landlocked West African nation. In 2010, Kaboré signed a deal to borrow the equivalent of $12.7 million to finance infrastructure repairs needed after a 2009 flood dropped 300 millimeters of water—about a foot—on the country in 10 hours.
In May 2012, Kaboré dedicated a mosque he had financed in his native village of Tanghin-Dassouri, near Burkina Faso's capital of Ouagadougou.
Kaboré left the cabinet in July 2012 for a brief stint as human resources and community affairs manager for Belahourou Mining Company. The following September, Kaboré set up a consultancy on public works projects. He also founded Alunet Sarl Co., a window and door manufacturer, and in 2016 created the African Agency for Public Works and Energy in Africa, which specialized in transport, hydro-agricultural infrastructures and energy sector projects management.
Kaboré speaks French, English and his native language of Moré.
-Steve Straehley
To Learn More:
Meet the Ambassador (Embassy of Burkina Faso)