Bureau of Land Management Gives in to Armed Protestors Supporting Rancher who Stopped Paying Fees to Graze Cattle on Federal Land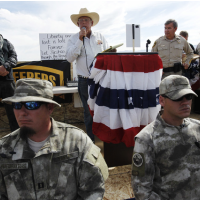 Cliven Bundy addresses his supporters (photo: Jason Bean, Las Vegas Review-Journal/AP)
Confronted by about 1,000 protestors, many of them armed, the federal government backed down in a two-decade-old cattle-grazing controversy in Nevada that threatened to turn violent.
Rancher Cliven Bundy has refused since 1993 to pay the Bureau of Land Management (BLM) so his cattle could graze on public lands in Gold Butte, about 80 miles northeast of Las Vegas. His refusal continued even after losing two court battles in 1998 and 2013, as Bundy kept running his herd on the lands managed by BLM without paying the fees required of all ranchers.
He told the Las Vegas Sun: "I abide by almost zero federal laws."
Bundy also warned that he owned firearms and was willing to "do whatever it takes" to defend his property if the BLM came to his door. That's what the bureau did, sending in a team of armed rangers to the Bundy ranch to confiscate his cattle.
Bundy soon became the darling of conservative groups, anti-government sympathizers and militia members who rallied behind him. His backers also included local branches of Americans for Prosperity, a right-wing political organization heavily funded by the Koch brothers.
Anti-government protestors flocked to Bundy's ranch. Many were armed and indicated a willingness to use violence to stop the BLM from taking the herd.
Fearing another Ruby Ridge or Waco fiasco, BLM decided to stop its cattle seizure and return the animals to Bundy.
"Based on information about conditions on the ground and in consultation with law enforcement, we have made a decision to conclude the cattle gather because of our serious concern about the safety of employees and members of the public," Neil Kornze, the bureau's director, said in a statement.
BLM says it will try to resolve the matter through administrative means and the courts.
While Bundy and his supporters were thrilled with BLM's decision, an environmental group was outraged.
The lands where Bundy's cattle had illegally grazed are home to the federally protected desert tortoise. The Center for Biological Diversity is now threatening to sue BLM if it doesn't take action to keep Bundy's cattle from interfering with the tortoise's habitat.
"The sovereign militias are ruling the day," Rob Mrowka, senior scientist with the Center for Biological Diversity, told Reuters. "Now that this precedent has been set and they're emboldened by the government's capitulation, what's to stop them from applying the same tactics and threats elsewhere?"
Indeed, the government capitulation to the threat of violence could lead to other supporters of illegal activities on public lands taking up arms…such as marijuana growers and even prostitutes.
Those on the side of the law got no help from Nevada Governor Brian Sandoval. Earlier last week, Sandoval suggested the federal government had created an atmosphere of "intimidation." He said in a statement on Saturday that he welcomed the bureau's retreat. "Given the circumstances, today's outcome is the best we could have hoped for," he said.
-Noel Brinkerhoff
To Learn More:
Feds Turn From Landlords To Warlords: Koch Groups Back Rancher Making Violent Threats Against Federal Gov't (by Oliver Willis, Media Matters)
Nevada Ranching Family Claims Victory as Government Releases Cattle (by Jennifer Dobner, Reuters)
Nevada Rancher Cliven Bundy: "The Citizens of America" Got My Cattle Back (CBS News/Associated Press)
Lone Rancher is Prepared to Fight Feds for Land (by John M. Glionna, Los Angeles Times)
Creating Peace between Wild Animals and Cattle (by Melanie Young, AllGov)