Bureau of International Narcotics and Law Enforcement Affairs: Who Is Kirsten Madison?
Thursday, February 01, 2018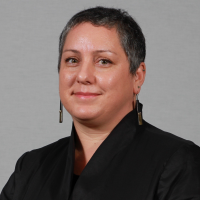 Kirsten Madison
President Donald Trump has announced his choice to be the next assistant secretary of state for International Narcotics and Law Enforcement Affairs. In addition to dealing with the international drug trade, the Bureau of International Narcotics and Law Enforcement Affairs focuses on money laundering, cybercrime and trafficking in people, weapons and endangered species. Nominated on January 29, 2018, Kirsten D. Madison has been a resident fellow at the American Enterprise Institute with the title of deputy director of foreign and defense policy studies since October 2015. If confirmed by the Senate, she would succeed career diplomat William Brownfield, who retired from the position in September 2017.
Born February 14, 1968, to Lynn and Kathryn (Falcone) Madison, Kirsten Dawn Madison grew up in Naples, Florida. She earned a B.A. in International Relations at Goucher College in 1990 and an M.Sc. in Economics and European Studies at the London School of Economics and Political Science in 1991. As an undergraduate in 1989, she participated in Boston University's "Politics in Britain" program in London, including a stint as an intern at the European Parliament in Brussels, Belgium.
Madison started her career in the partisan environment of Capitol Hill, as a press assistant in the office of Florida Republican Representative Porter Goss, who represented her hometown of Naples, Florida. From 1992 to 1997, she served as legislative correspondent, press assistant, legislative assistant, senior legislative assistant, and legislative director & international affairs advisor.
Her next job was in the Senate. Madison served as a senior professional staff member at the Senate Foreign Relations Committee from 1997 to 2001, while it was led by Sen. Jesse Helms (R-North Carolina).
Leaving government employment briefly, Madison worked as senior adviser to César Gaviria, secretary general of the Organization of American States, from January to October, 2002.
Madison took her first job at the State Department in November 2002, serving as senior advisor to the assistant secretary of state for Western Hemisphere Affairs until August 2003. At that time, she became director for Western Hemisphere Affairs at the National Security Council, serving until January 2006, when she returned to the Bureau of Western Hemisphere Affairs to serve as deputy assistant secretary from February 2006 to September 2008. In April 2006, she visited Nicaragua six months before presidential elections and urged Nicaraguans to oppose Daniel Ortega and José Rizo, whom she referred to as "two corrupt warlords who represent a return to a dark, selfish and unproductive past." Despite her efforts, Ortega won the election, albeit with only 38% of the vote in a five-candidate contest.
Madison has also worked at the Department of Homeland Security, as director of international affairs and foreign policy advisor to the commandant of the US Coast Guard, from October 2008 February 2013.
In February 2013, Madison returned to the Senate Foreign Relations Committee, serving as oversight director for Republican staff from February to September 2013, and as deputy staff director for Republican staff from September 2013 to October 2015.
Madison is married to attorney Matthew Dyckman, whom she met in high school.
-Matt Bewig
To Learn More:
Profile (American Enterprise Institute)
On the Riverfront (by Jura Koncius, Washington Post)
State Department Cables 2005-2008 (WikiLeaks)