Big Winners in a Bad Economy…Military Recruiters
Wednesday, September 15, 2010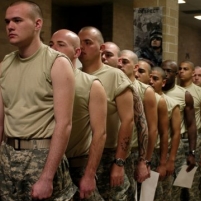 (photo: Micky M. Bazaldua, U.S. Air Force)
Business is booming for the military in these lean economic times. The four major branches of the armed services (
Army
,
Navy
,
Air Force
and
Marines
) are "far exceeding their recruiting goals," according to the
Dallas Morning News
, which reports enlistments are so high that the military isn't having to take high school dropouts in the same numbers as before. Criminal records and tattoos, which were often overlooked only a couple years ago, are no longer tolerated. About 99% of enlistees have a high school diploma, and new recruits are scoring the best ever on the military entrance exam since the draft was eliminated. The services sign up between 280,000 and 300,000 new members of the military each year.
The South, which historically has been the best region for recruiters, is once again producing big numbers for the military. Forty-one percent of enlistees hail from Southern states, even though the region accounts for only 36% of the nation's young adults. Texas alone supplies 10% of all new recruits each year.
-Noel Brinkerhoff