Battling Obesity in U.S., FDA Approves Sweeping New Rules for Calorie Disclosure
Wednesday, November 26, 2014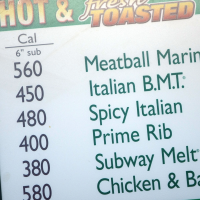 (photo: Mario Tama, Getty Images)
It's not often that the federal government adopts new regulations aimed at helping Americans eat healthier and that manage at the same time to exceed the expectations of public health advocates. But that's what the Food and Drug Administration (FDA) did this week when it announced new calorie-disclosure requirements for restaurants and other businesses that serve food in an effort to reduce obesity among Americans.
Starting late next year, fast food and other restaurant chains, including pizza parlors, plus movie theaters will have to list calorie counts on their menus, according to The New York Times.
FDA officials are hoping the publishing of calorie totals will help Americans make smarter decisions about what they eat when going out and perhaps shrink some waistlines along the way since "as much as a third of the calories that Americans consume come from outside the home," the Times' Sabrina Tavernise and Stephanie Strom wrote.
Experts like Marion Nestle, a professor in the department of nutrition, food studies and public health at New York University, were surprised to learn that the rules went beyond what she and others expected, applying them to alcoholic beverages listed on restaurant menus, but not mixed drinks served in bars.
"It's much tougher than the original [draft plan]," Nestle told the Times. "I'm amazed. It never occurred to me that alcohol would make it in."
Food in vending machines and food sold in grocery stores intended for consumption by one person will also be included in the rule, but items such as rotisserie chicken are still exempt. Moviegoers may get a preview of a horror flick when they see how many calories their large buttered popcorn has.
Pizza restaurant owners won a victory when it was ruled that they can list calorie counts per slice. Be prepared for pizzas to be cut into very small slices.
Margo Wootan, director of nutrition policy at the Center for Science in the Public Interest, called the regulations "one of the most important public health nutrition policies ever to be passed nationally."
-Noel Brinkerhoff
To Learn More:
FDA to Require Calorie Count, Even for Popcorn at the Movies (by Sabrina Tavernise and Stephanie Strom, New York Times)
New FDA Rules will Put Calorie Counts on Menus (by Mary Clare Jalonick, Associated Press)
Hey, Didn't We Pass a Law about Nutritional Info on Restaurant Menus? (by Ken Broder, AllGov California)
FDA Proposes First Major Food Labeling Changes in 22 Years (by Noel Brinkerhoff, AllGov)