Assistant Secretary of Labor for the Employment and Training Administration: Who Is John Pallasch?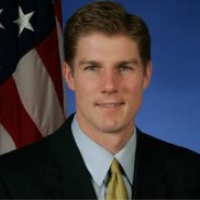 John Pallasch
John Patrick Pallasch, who served as executive director of Kentucky's Office of Employment and Training for about a year, was nominated April 11, 2018, to lead the Employment and Training Administration in the Department of Labor. The agency promotes job training and programs.
Born February 18, 1975, Pallasch grew up in Colorado. He earned a B.A. in sociology and criminology from Ohio State University in 1997. He moved to the West Coast for law school, earning a J.D. from Pepperdine in 2000. While at Pepperdine, Pallasch was executive director for Victory 2000, where he coordinated direct mail and volunteer efforts for Republican candidates during the 2000 election cycle.
Pallasch joined the Department of Labor in August 2001, as a special assistant directing the closure of department offices across the country. In 2007, he was named a deputy assistant secretary for policy in the Mine Safety and Health Administration (MSHA). Pallasch even served as acting head of the MSHA for three days in 2008 after the appointment of acting director Richard Stickler expired. President George W. Bush then reappointed Stickler, who had come under fire for the MSHA mismanagement of the response to August 2007 Crandall Canyon Mine collapse in Utah.
In 2009, Pallasch took a post as a special assistant in the Office of the State Superintendent of Education, which runs Washington D.C.'s schools, serving there until 2012. Pallasch returned to California in June 2012 to work for StudentsFirst, a lobbying organization for the charter school movement, first as director of implementation and then as human resources director.
Pallasch moved to Kentucky in April 2017 as executive director of the commonwealth's Office of Employment and Training, a post he held at the time of his nomination. Kentucky receives more than $700 million from the federal government to help its citizens find jobs.
-Steve Straehley
To Learn More:
John Pallasch (LinkedIn)
Bush Reappoints Mine Safety Chief Who Bungled Crandall Canyon Disaster (by Amanda Terkel, ThinkProgress)