Army Claims it's too Dangerous to Clean Up Radioactive Weapons Test Site in Indiana
Wednesday, December 17, 2014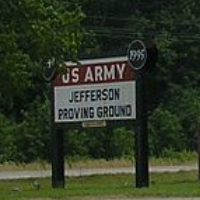 (photo: Wikipedia)
Fifty years of firing radioactive munitions by the U.S. Army has left a large swath of Southern Indiana toxic and dangerous: More than 160,000 pounds of depleted uranium projectiles and millions of artillery shells have been left behind, unexploded, at the firing range.
The Army, however, is showing no signs of cleaning up the mess. In fact, it appears to be trying to walk away from the problem altogether, leaving local residents at potential risk.
The Army used the Jefferson Proving Ground (JPG) as a firing range from World War II until the mid-1990s. During that span of time, artillery units fired millions of rounds across the area—many of which were coated with depleted uranium to help them penetrate enemy tanks.
"The Army estimates that 1.5 million depleted uranium penetrating rods are still in the ground or on the surface," the Courier-Journal reported. "And another 3 million to 5 million unexploded conventional shells with live detonators, primers or fuzes also remain just north of the firing line."
To make matters worse, the Army is asking the Nuclear Regulatory Commission to end its license for JPG and allow them to halt environmental testing of the area. The Army's decommissioning plan says it would be too dangerous to mitigate the 2,000-acre "hot zone" located within the 50,000-acre parcel, and too expensive to boot. It would rather just leave it fenced off and do nothing more.
Some local residents worry that the radioactive materials will spread beyond JPG during heavy rains.
Mike Moore, a member of the Jefferson Proving Ground Heritage Partnership, worked at the site for the Army until 1994. "The Army never thought much about the future," he told the Courier-Journal. "They just wanted to test the ammunition. ... No thought was given that you've ruined this land forever."
In 1995, the Army auctioned off portions of the land that it believed was no longer contaminated. A 4,300-acre parcel was purchased by a local farmer, Dean Ford, for $5.1 million.
After closing down JPG that year and leaving its unexploded ordnance behind, the Army moved its artillery testing operation to the Yuma Proving Ground in Arizona. Depleted uranium weapons have also been tested at Aberdeen Proving Ground in Maryland. The Army reportedly claims it is too expensive to clean up those abandoned munitions as well.
-Noel Brinkerhoff, Danny Biederman
To Learn More:
Army Aims To Leave Behind Radioactive Mess (by Charlie White, Courier-Journal)