Arizona Legislature Passes Bill Allowing Businesses to Discriminate against Gays
Tuesday, February 25, 2014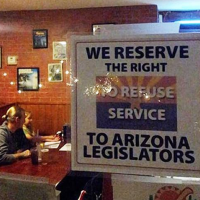 Sign posted at Rocco's Little Chicago Pizzeria in Tucson (photo: Rocco's)
Conservatives in Arizona have once again captured the national spotlight with a controversial new law allowing discrimination against homosexuals on religious grounds.
Having embraced proposals that targeted illegal immigrants, Arizona lawmakers last week approved legislation that would allow business owners to use their religious beliefs to justify the denial of services to same-sex couples.
Christian religious groups praised the move, claiming the law was necessary to allow individuals the right to protect themselves from a lifestyle they oppose.
"In America, people should be free to live and work according to their faith, and the government shouldn't be able to tell us we can't do that," Joseph E. La Rue, legal counsel at Alliance Defending Freedom, a Christian legal organization based in Scottsdale, Arizona, told The New York Times. "Faith shouldn't be something we have to leave inside our house."
Gay rights advocates and civil libertarians were outraged by the legislation, which is certain to face a court challenge if Republican Gov. Jan Brewer signs it.
"The Arizona Senate bill is blatantly unconstitutional," Shannon Minter, legal director for the National Center for Lesbian Rights, told the Los Angeles Times. "It violates the requirement of equal protection of the laws by openly singling out a particular group of people and saying it's OK to discriminate against them."
Some Arizona business owners publicly objected to the bill, and garnered national attention in the process.
Rocco DiGrazia, who owns a pizzeria in Tucson, posted signs on his restaurant's doors—photos of which spread across social media websites—declaring, "We Reserve the Right to Refuse Service to Arizona Legislators."
"I make dinner for a living—I'm not a social activist," DiGrazia told the Times. "But I do have a lot of gay customers and employees, and why are you trying to alienate these people?"
It was unknown whether Brewer would side with her fellow Republicans and approve the controversial law.
In recent years, she has gone along with conservatives on some key issues, like those allowing law enforcement to racially profile Hispanic drivers in order to identify illegal immigrants.
But she also has gone taken actions that upset those on the right, like expanding Medicaid eligibility for the poor.
She also vetoed a similar bill based on religious freedoms during last year's legislative session.
Chuck Coughlin, a close adviser of Brewer's, told the Times that he thinks the governor will reject the current bill on her desk.
-Noel Brinkerhoff
To Learn More:
Religious Right in Arizona Cheers Bill Allowing Businesses to Refuse to Serve Gays (by Michael Paulson and Fernanda Santos, New York Times)
Gay Rights Activists in Uproar Over Arizona 'Religious Freedom' Bill (by Cindy Carcamo, Los Angeles Times)
AZ Pizzeria to Legislators: Discrimination Goes Both Ways (by John M. Becker, Bilerico Project)
Homosexuality Still Illegal in 77 Countries (by Noel Brinkerhoff, AllGov)
Should it be Legal to Exclude Potential Jurors because They're Gay? (by Matt Bewig, AllGov)