Americans Have Wages Garnished and Assets Seized over Homes They Already Lost
Thursday, October 16, 2014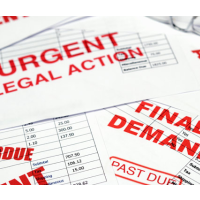 (graphic: Getty Images)
Thousands of Americans are being chased by zombies—zombie loans that is.
Many of those who lost homes in the housing crisis last decade are finding that their nightmare still is not over. That's because banks are still pursuing them over the mortgages they defaulted on, according to Reuters.
Settlements that followed often did not cover the remaining balance on the loan. This has led to "deficiency judgments," in which debt collectors are now hunting down the former homeowners. In many cases, the judgments result in frozen bank accounts, garnished wages and seized assets.
"The two big government-controlled housing finance companies, Fannie Mae and Freddie Mac, as well as other mortgage players, are increasingly pressing borrowers to pay whatever they still owe on mortgages they defaulted on years ago," Reuters' Michelle Conlin wrote.
From January 2010 through June 2012, Fannie Mae referred 293,134 foreclosure cases to debt collectors for possible pursuit of deficiency judgments, according to a 2013 report by the Inspector General for the agency's regulator, the Federal Housing Finance Agency.
"This is monumentally unfair and damaging to the economy," Ira Rheingold, the executive director of the National Association of Consumer Advocates, told Reuters. "It prevents people from moving forward with their lives."
Danell Huthsing of Jacksonville, Florida, wound up being pursued for her share of a mortgage after breaking up with her boyfriend, with whom she shared a house. "For seven years you think you're good to go, that you've put this behind you," Huthsing told Conlin. "Then wham, you get slapped to the floor again."
If you went through foreclosure with Bank of America, Wells Fargo, JPMorgan Chase or Citibank, you may be in luck. Those institutions typically do not pursue deficiency judgments, although they reserve the right to do so, Reuters reported.
-Noel Brinkerhoff, Steve Straehley