Ambassador to the Netherlands: Who Is Pete Hoekstra?
Thursday, August 24, 2017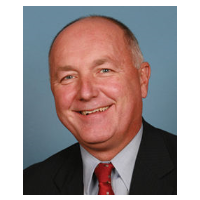 Pete Hoekstra
Former Congressman Peter Hoekstra, a Dutch American born in the Netherlands, will soon find himself frequently at odds with his homeland as President Donald Trump's ambassador to the Netherlands. On a broad range of issues, including marriage equality, gay and transgender rights, marijuana use, NATO spending, anti-terrorism, refugees and immigration, and trade, Hoekstra and Trump hold views opposed by most Dutch and by their government. If confirmed by the Senate, Hoekstra would succeed Timothy Broas, who served in The Hague from March 2014 to February 2016.
Hoekstra's bizarre comments about the Netherlands have raised concerns. In November 2015 Hoekstra claimed that a "stealth jihad" in the Netherlands was causing so much "chaos" that "there are cars being burned, there are politicians that are being burned, … and yes, there are no-go zones in the Netherlands." So far from the truth were these assertions that Dutch journalist Evert Te Winkel quipped that "Pete Hoekstra is known as such a major anti-terrorist expert that he sees Dutch no-go zones that even the Dutch cannot see."
Born October 30, 1953, in Groningen, Netherlands, Piotr Hoekstra immigrated to the U.S. with his parents in 1957 at age three and became a U.S. citizen when he was nine years old. He grew up in Holland, Michigan—home to the largest concentration of Dutch-Americans in the U.S.—and graduated Holland Christian High School in 1971. He earned a B.A. in Political Science at Hope College in 1975 and an M.B.A. at the University of Michigan in 1977. He then joined office furniture maker Herman Miller and worked there for 15 years, eventually becoming vice president of marketing.
In 1992, Hoekstra ran for office for the first time, challenging 13-term Republican incumbent Guy Vander Jagt to represent Michigan's 2nd District in Congress. Bicycling around the district, Hoekstra charged that Vander Jagt had served in Congress too long and won the Republican primary in an almost six-point upset. Hoekstra defeated Democrat John H. Miltner in November 1992 with 63% of the vote. In Congress, Hoekstra took conservative positions on virtually every issue, and was a founding member of the Congressional House Tea Party Caucus in 2010. He co-sponsored nine bills considered anti-LGBT.
From 2004 to the end of his service, Hoekstra was a member of the House Intelligence Committee, and was its chair from 2004 to 2007. In February 2009, on an official but secret trip to Iraq with other Congress members, Hoekstra sent several messages via Twitter that violated the secrecy of the mission, but refused to apologize.
In December 2008, Hoekstra said he would not seek re-election to his U.S. House seat in 2010, and instead run for governor. In the August 2010 Republican primary, Hoekstra lost to Rick Snyder (who later won the general election) by more than 100,000 votes.
In 2012, Hoekstra ran for the Senate against incumbent Democrat Debbie Stabenow and lost by nearly 1,000,000 votes, marking the last time Hoekstra went before voters. During the 2012 Super Bowl, Hoekstra ran a TV ad with a young Asian woman saying in broken English, "Debbie spend so much American money. You borrow more and more from us. Your economy get very weak. Ours get very good. We take your jobs. Thank you Debbie Spend-it-now." GOP strategist Mike Murphy called the ad "really, really dumb," and U.S. Commission on Civil Rights member Michael Yaki pronounced it "blatantly racist." The actress who played the Asian woman, Lisa Chan, publicly apologized.
After leaving Congress in early 2011, Hoekstra became a lobbyist, first at the Dickstein Shapiro law firm, and then at Greenberg Traurig, where former New York mayor Rudy Giuliani also worked. Hoekstra became a major foreign lobbyist, representing the Kurdish Regional Government, the Libya Institute for Advanced Studies, and a Belarusian potash company concerned about U.S. sanctions.
In 2014, Hoekstra joined the Investigative Project on Terrorism, a right-wing group run by Steve Emerson, who in January 2015 falsely claimed on Fox News that there are Muslim-only "no-go zones" across Europe that are ruled by Shariah law, a lie that both Emerson and Fox News were forced to apologize for. Yet just ten months later, Hoekstra repeated those debunked claims in a discussion about the Netherlands.
In 2016, after initially endorsing Ohio Governor John Kasich, Hoekstra switched to supporting Donald Trump, serving as Trump's Michigan co-chair and advisor on national security issues. He also participated in several briefings with Trump on Middle East issues.
He has been a director of defense contractor Gentex Corporation since May 2013. He is the author of Architects of Disaster: The Destruction of Libya.
Peter Hoekstra lives in Holland, Michigan, with his wife, Diane, whom he met in high school and with whom he has three children, Erin, Allison, and Bryan.
-Matt Bewig
To Learn More:
US Ambassador Candidate Lacks Liberal Dutch Values (by Peter Cluskey, Irish Times)
Dutch Wary of Trump's Ambassador, Who Imagines "No-Go Zones" in Netherlands (by Robert Mackey, The Intercept)
Trump's Pick for Ambassador to this Gay-Friendly Country is a Gay Rights Opponent (by Amanda Erickson, Washington Post)
New U.S. Ambassador Hoekstra is against Gay Marriage, Abortion (by Janene Pieters, Netherland Times)
Hoekstra, Potential CIA Pick, has Long Foreign, Domestic Lobbying Resume (by Benjamin Oreskes, Politico)
Seven Things You Didn't Learn About Pete Hoekstra on Sunday (by K.S. Wheeler, GRIID)