Ambassador to Switzerland and Liechtenstein: Who Is Suzi LeVine?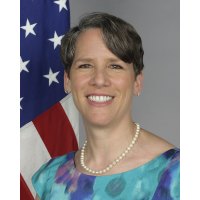 Suzi Levine
The U.S. ambassador to Switzerland and Lichtenstein from May 2014 to January 2017 was Suzan LeVine, whose posting to Bern was a reward for her fundraising for President Barack Obama. According to the Center for Responsive Politics, between 2008 and 2012, LeVine donated $432,251 to Democratic candidates and organizations, gave $18,840 to Obama's re-election campaign, and "bundled" at least $500,000 in donations from others. The New York Times reported in September 2012 that LeVine had raised at least $2.3 million for Obama's campaigns since 2007.
Suzan Gail (Davidson) LeVine was born November 17, 1969, in Atlantic City, New Jersey, to Maurice Davidson, a doctor who had served in Vietnam, and Phyllis (Fox) Davidson, whose father, Phillip Fox, was a co-founder of the American Legion. She has two brothers, Philip and Samuel, and one sister, Hanna Fox. She graduated Atlantic City High School in 1987, and
earned dual degrees at Brown University in 1993: a B.A. in English and a B.S. in Mechanical Engineering with aerospace applications.
Relocating to Seattle after graduation, LeVine began what she likes to call her "non-linear career" as a product manager for Microsoft from 1993 to 1998, where she worked on launching the final versions of MS-DOS and Windows 95.
From 1998 to 2005, LeVine worked for Expedia, Inc., first as a director of marketing and then as the vice president of marketing and sales for the luxury travel division.
From March 2006 to January 2014, she served as the co-founder and then chair of the advisory board for the Institute for Learning and Brain Sciences (I-LABS) at the University of Washington, which is a leading early learning research institute.
For three of her years at I-LABS, 2009 to 2012, LeVine also worked at Microsoft as director of strategic partnerships for student developers and director of communications for education, working with students, school leaders, and educators to promote the advantages of teaching tech skills using Microsoft products.
During her term as ambassador, LeVine became interested in the Swiss dual education system, which emphasizes vocational apprenticeships for many students, and began advocating its adaptation to the U.S. Since resigning her post, LeVine has continued to advance that agenda by joining several relevant organizations: the Career Connect Washington Task Force, the board of CareerWise Colorado, the Seattle Region Partnership, and the board of the Center on the Economics and Management of Education and Training Systems in Zurich.
LeVine has been involved in various social and community initiatives, including co-founding the Kavana Cooperative, an independent Jewish community in Seattle. She has also been active with Hillel at the University of Washington, serving in various capacities, including board chair from July 2009 to June 2011, from 2000 to 2014.
Suzi LeVine and her husband, Eric LeVine, who founded CellarTracker, an online website for those who own wine-cellars, live in Seattle. They have two children, Sidney and Talia.
-Matt Bewig
To Learn More:
State Department Biography (State Department)
Testimony Before the Senate Committee on Foreign Relations (pdf)
Learning From the Swiss About Apprenticeship (by Suzi and Eric LeVine)
An Interview with Suzan LeVine, U.S. Ambassador to Switzerland and Lichtenstein (by Joyce Xi, The Politic)
Geek of the Week: U.S. Ambassador Suzan LeVine draws on tech experience to enlighten and engage (by Kurt Schlosser, GeekWire)