Ambassador to Kyrgyzstan: Who Is Donald Lu?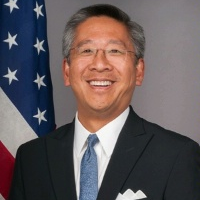 Donald Lu
Donald Lu, a career Foreign Service Officer who has been ambassador to Albania since December 2014 and who has spent the balance of his career working with other formerly communist nations, was nominated by President Donald Trump on May 25, 2018, to become the U.S. ambassador to Kyrgyzstan. If confirmed by the Senate, he would succeed Sheila Gwaltney, who has served in Bishkek since August 2015 and is set for reassignment in July 2018.
During his time in Albania, Lu earned both praise and criticism for his attempts to support ongoing efforts by the U.S. and others to root out the systemic corruption in the Albanian political and judicial system. Despite the long-standing nature of the corruption and the efforts against it, some right-wing commentators seized on the conservative politics of many of the individuals recently targeted to smear Lu with charges of being an operative of liberal billionaire George Soros or a part of a so-called "deep state" conspiracy against President Trump. However, Trump's decision to nominate Lu for the Kyrgyzstan job suggests that Trump is not troubled by these allegations.
Born March 24, 1966, to David Lu and Allena (Kaplan) Lu in Huntington Beach, California, Donald Lu earned Bachelor's and Master's degrees in International Relations at Princeton University in 1988 and 1991, respectively. Lu served as a Peace Corps volunteer in Sierra Leone from 1988 to 1990, where he helped to restore hand-dug water wells and taught health education and latrine construction.
Joining the Foreign Service in 1990, Lu served early career foreign postings as a political officer at the consulate in Peshawar, Pakistan; as a consular officer at the embassy in Tbilisi, Georgia; and as a special assistant to Ambassador Frank Wisner and then political officer at the embassy in New Delhi, India.
Lu served as special assistant to the ambassador for the "Newly Independent States," (NIS) from 2000 to 2001, and then as deputy director for the Office of Central Asian and South Caucasus Affairs from 2001 to 2003. The NIS were former Soviet republics that achieved independence after the fall of the USSR, including Armenia, Azerbaijan, Belarus, Georgia, Kazakhstan, Kyrgyzstan, Moldova, Tajikistan, Turkmenistan, Ukraine, and Uzbekistan.
From 2003 to 2006, Lu was deputy chief of mission at the embassy in Bishkek, Kyrgyzstan. Lu then served as deputy chief of mission at the embassy in Baku, Azerbaijan, including a stint as the chargé d'affaires from July 2009 through July 2010, when the office of ambassador was vacant.
In September 2009, Lu dispatched a diplomatic cable to Washington in which, quoting a prominent local politician, he compared Azerbaijani President Ilham Aliyev to the two young mafia dons of The Godfather films: the impulsive Sonny Corleone and his calculating younger brother Michael. Lu wrote that Aliyev's foreign policy—which he characterized as based on "restraint and a helpful bias toward integration with the West," represented his inner Michael, while his "increasingly authoritarian" domestic policies channeled Sonny. He even called Aliyev's father, Heydar, who was president for the decade prior to his son, "the 'Vito Corleone' of Azerbaijan."
Lu served in India again from July 2010 to July 2014 as deputy chief of mission at the embassy in New Delhi. In the latter half of 2014, however, he worked on the Ebola crisis in West Africa as deputy coordinator for ebola response, before becoming ambassador to Albania.
In October 2017, in a speech to the Magistrates School in Tirana, Lu described Albania as "a center of organized crime activity which includes trafficking in drugs, weapons, and prostitution," with four major clans controlling 20 crime families.
Lu is married to Dr. Ariel Ahart, a public health specialist. They have two children, Kipling and Aliya. Lu speaks West African Krio, Urdu, Hindi, Russian, Georgian, and Azerbaijani.
-Matt Bewig
To Learn More:
Donald Lu Nominated for Post of U.S. Ambassador to Kyrgyzstan (by Elena Khokhlova, 24g)
Statement of Donald Lu before the Senate Foreign Relations Committee (pdf, 2013)
Albania: Ambassador Lu's Watch List (by Fron Nahzi, Huffington Post)