Ambassador of Zambia to the United States: Who Is Ngosa Simbyakula?
Tuesday, January 02, 2018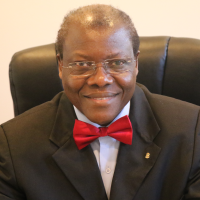 Ngosa Simbyakula
The southern African nation of Zambia sent its sixteenth ambassador to the United States in November 2017. Formerly minister of justice, Ngosa Simbyakula presented his credentials to President Donald Trump on November 28. Appointed by Zambian President Edgar Lungu, Simbyakula is also concurrently accredited to Belize, Costa Rica, Guatemala, Haiti, Honduras, Mexico, and Nicaragua. He succeeds Palan Mulonda, who served starting in 2013.
Born May 13, 1954, in the village of Nalube in the Monze East district of Zambia's Southern province, Robert Ngosa Simbyakula grew up in Ndola, Zambia's third largest city and capital of the Copperbelt province. His father was Barthlomeau Simbyakula. Ngosa Simbyakula earned an LL.B. (a four-year undergraduate degree in law) at the University of Zambia in 1981, and an LL.M. (a Master's degree in law) in constitutional law in 1983. For his LL.M., he wrote a thesis entitled The Preferential Trade Area for Eastern and Southern African states: A Legal perspective. From 1986 to 1990, Simbyakula was a Fulbright Scholar at the University of Wisconsin-Madison, where he earned his SJD (a doctorate in law) in tax law with a dissertation entitled Taxation and Economic Development in Zambia.
Simbyakula has spent most of his career in academia. He taught law at the University of Zambia from 1981 to 1998, serving as dean of the Law School from 1993 to 1998. He also served as external examiner at the University of Dar-es-Salaam in Tanzania from 1996 to 1997, and as a member of the Times of Zambia board of directors.
Simbyakula's political career began in September 1998, when he was appointed permanent secretary for the Copperbelt Province by President Frederick Chiluba, who in 1999 transferred him to the Foreign Affairs Ministry. In 2002 Simbyakula was appointed permanent secretary at the Ministry of Justice by President Levy Mwanawasa. In October 2004, he was one of only two candidates in Zambia to pass a FIFA players' agents examination.
Simbyakula served as vice chairman of the Tax Appeals Tribunal from 2004 to 2010, where he heard taxpayers' appeals of decisions of the Zambia Revenue Authority. Concurrently, from 2006 to 2009, Simbyakula also served as CEO of the Zambia Institute for Advanced Legal Education, which provides professional training and sets the bar exam for those who seek to practice law in Zambia.
Simbyakula served as a member of parliament from 2011 to 2016 as a member of the Patriotic Front, Zambia's center-left party. In September 2011, he was appointed deputy minister of justice and cabinet minister for home affairs by President Michael Sata in December 2013.
In January 2015, newly-elected President Edgar Lungu named him minister of justice, a position he held until 2016. In that job, Simbyakula played a leading role in enacting a major revision of Zambia's constitution, which was signed into law in January 2016. Simbyakula also served as acting president for about a week in March 2015, while Lungu was in Pretoria, South Africa, for surgery to correct a chronic digestive problem.
Ambassador Simbyakula is divorced from Margaret Simbyakula. The couple married in 1983, had five children, separated in 2007, and divorced in May 2015.
-Matt Bewig
To Learn More:
Zambia's New Ambassador to the U.S, Dr. Ngosa Simbyakula Arrives in Washington D.C. (Lusaka Times)