Ambassador of the Philippines to the United States: Who Is Jose "Babe" Romualdez?
Wednesday, January 10, 2018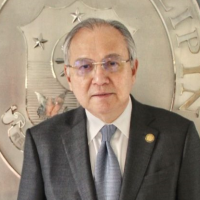 Jose "Babe" Romualdez
Nine months after threatening not to name a new ambassador to the United States, Philippine President Rodrigo Duterte sent media executive Jose Manuel "Babe" Romualdez to Washington. Initially tapped in October 2016, Romualdez declined after emergency surgery for a detached retina grounded him from flying. In February, Duterte threatened not to send an ambassador to the U.S.: "In the US, we have no ambassador. No ambassador will go there… I do not feel like sending one."
Nevertheless, on July 5, 2017, Duterte named Romualdez special envoy to President Donald Trump, and appointed him ambassador to the U.S. on July 27. Finally, on November 29, Romualdez presented his credentials to Trump. Romualdez is also concurrently accredited to Antigua & Barbuda, Bahamas, Barbados, Dominica, Haiti, Jamaica, Saint Kitts & Nevis, Saint Lucia, Saint Vincent & the Grenadines, and Trinidad & Tobago. He succeeds Jose Cuisia, Jr., who served in Washington from July 2011 to June 2016.
Born in 1948 and raised in Manila, Jose Manuel "Babe" del Gallego Romualdez is one of seven children born to Dr. Alberto Zialcita Romualdez, Sr., a secretary general of the World Medical Association, and Dr. Covadonga Ubante del Gallego, who chaired the Pathology Department at Manila's University of Santo Tomas Hospital. They were married in 1939. His nickname came about because he was the "baby" in the family for nine years before his brother was born.
Although his parents were not politicians, Babe Romualdez comes from a prominent Filipino political family. His uncle Daniel Romualdez, Jr., was House speaker from 1956 to 1962; grandfather Miguel was Mayor of Manila; and granduncle Norberto served as a justice on the Supreme Court. In addition, he is the nephew of former First Lady Imelda Marcos. Babe is the third Romualdez to serve as the Philippine ambassador to the United States. He follows in the footsteps of Eduardo Z. Romualdez, who served from October 1971 to June 1982, and Benjamin Romualdez, Imelda Marcos's younger brother, who served from July 1982 to March 1986, when the Marcos regime was overthrown.
"Babe" Romualdez earned a BS in Business Administration from De La Salle College in Manila in 1970. He started his career the same year as a TV newscaster for KBS-9 Manila, the Philippines first station to broadcast in color. He rose to become executive assistant to the station's chairman of the board, and eventually was president and vice chairman of the Board of the Television Corporation of the Philippines.
Along the way, Romualdez became a political player. In 1989 he was a media coordinator for the visit of Philippine Vice President Salvador Laurel to Washington, D.C. He was also a member of the business delegation that joined President Fidel Ramos at the Asia-Pacific Economic Cooperation (APEC) conferences in Seattle (1993) and Vancouver (1997), remaining with the delegation on its trips to Los Angeles and Mexico as well.
Romualdez has been president of the Manila Overseas Press Club, vice-president of Rotary Club of Manila, and a regular columnist ("Babe's Eye View", "Spy Bits," and "This Week on People Asia"). He has also been CEO of Stargate Media Corp., publisher of People Asia Magazine, and chairman and CEO of FCB Group, and executive vice president of Philippines, Inc., the umbrella organization representing his nation's industry leaders.
There are an estimated 4 million Filipinos in the United States and about 220,000 U.S. citizens residing in the Philippines. Besides obvious issues such as trade, investment and terrorism, Romualdez will deal with the Filipino demand that the United States return the Balangiga church bells, which were taken away by the United States Army in 1901.
-Matt Bewig
To Learn More:
Finally, Duterte Names PH Ambassador to US (by Philip C. Tubeza, Philippine Daily Inquirer)
This 'Babe' Bats to Further Bolster PHL-US Relations (by Daily Star PH)
Babe's Eye View (by Babe Romualdez)
Is this DU30's New Way of Romancing the US? (by Francisco Tatad, Manila Times)