Ambassador of Ireland to the United States: Who Is Daniel Mulhall?
Sunday, November 26, 2017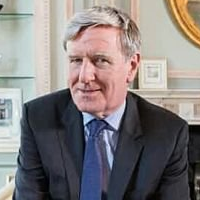 Daniel Mulhall
Daniel Mulhall has been Ireland's 18th Ambassador to the United States since August 2017. He succeeded Anne Anderson, who served as Ireland's first woman ambassador to the U.S. starting in September 2013. From 2013 until recently, Mulhall served as ambassador to the United Kingdom, which is the only country more important to Ireland than the U.S.
Born April 8, 1955, and raised in Waterford, Ireland, Daniel Mulhall earned three degrees in Irish history at University College Cork: a BA in 1975, an HDE in 1978, and an MA in 1979.
Mulhall joined Ireland's Department of Foreign Affairs (DFA) on March 31, 1978, and served early career assignments at DFA Headquarters in Dublin at the Economic Division (March 1978 to January 1979), Development Cooperation Division (February 1979 to March 1980), and Political Division (September 1983 to March 1985).
Mulhall's first overseas posting was as third secretary at the Irish Embassy in New Delhi, India, where he served from April 1980 to August 1983. In March 1985, Mulhall took special leave without pay, which ended in April 1987.
Upon his return, Ireland sent Mulhall to Vienna, Austria, to be first secretary at the Irish Mission to the Organization for Security and Cooperation in Europe (OSCE) from May 1987 to March 1989, when he began a brief stint in Dublin at the Economic Division from April 1989 to July 1990.
From August 1990 to October 1994, Mulhall was first secretary at Ireland's Permanent Mission to the European Union in Brussels, Belgium.
From November 1994 to August 1995, Mulhall was detailed to the Forum for Peace and Reconciliation, established by Ireland in 1994 to promote political dialogue regarding Northern Ireland. From September 1995 to August 1998 he served as press councillor in the DFA Press Section, and thus was part of the Irish Government's delegation at the time of the Good Friday Agreement in April 1998.
From September 1998 to September 2001, Mulhall served as Ireland's first ever consul general to Edinburgh, Scotland.
Mulhall was then awarded his first ambassadorship, serving in Kuala Lumpur, Malaysia, from October 2001 to August 2005. At the same time, Mulhall was also accredited as ambassador to Laos, Thailand, and Vietnam. Mulhall's service coincided with the Boxing Day Tsunami of 2004, which killed more than 230,000 people, including 68 in Malaysia.
Back in Dublin, Mulhall served as director-general for European Affairs from September 2005 to October 2009.
From November 2009 to August 2013, Mulhall was ambassador to Germany, after which he was ambassador to the United Kingdom starting in September 2013. While in Britain, he spoke regularly on political, literary and historical topics at universities and literary festivals all over the country.
Mulhall is an active writer who has made many contributions to books, newspapers, and journals published in Ireland, Australia, New Zealand, Germany, and the U.K. He is the author of A New Day Dawning: A Portrait of Ireland in 1900 (Cork, 1999) and co-editor of The Shaping of Modern Ireland: A Centenary Assessment (Dublin, 2016).
Daniel Mulhall and his wife, Greta, have a daughter and a son.
-Matt Bewig
To Learn More:
Ambassador Mulhall's Twitter Account
Ambassador for all Seasons – Dan Mulhall on Brexit, Twitter and Harnessing the Power of the Second Generation Irish (by Siobhan Breatnach, Irish Times)
Dan Mulhall Becomes Ambassador to U.S. (by Suzanne Lynch, Irish Times)
Daniel Mulhall: Irish ambassador to Britain on Brexit, Stormont and Solace in Poetry (by John Crowley, International Business Times)
Dan Mulhall: the Ambassador Who Defied Categorization (by Denis Staunton, Irish Times)