Ambassador of Colombia to the U.S.: Who Is Camilo Reyes?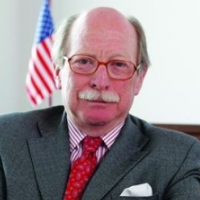 Camilo Reyes
A former foreign minister with high level ambassadorial experience. Camilo Reyes, was appointed Colombia's ambassador to the United States in May 2017 and presented his credentials to President Donald Trump on July 21, 2017. Reyes, who most recently worked seven years as executive director of the Colombian American Chamber of Commerce, succeeds Juan Carlos Pinzón, who resigned his post in order to run in Colombia's upcoming elections.
Born circa 1950, Camilo Reyes Rodríguez initially studied engineering and agronomy at the National University of Colombia in Bogotá. After the agronomy program was closed circa 1971, Reyes took a job as a librarian at the British Council, a British organization specializing in international cultural and educational opportunities.
In 1973, Reyes responded to an advertisement touting diplomacy as a career by taking and passing Colombia's foreign service exam—just a few days after the September 11, 1973, coup that killed President Salvador Allende of neighboring Chile. Reyes enrolled at the Universidad Jorge Tadeo Lozano in Bogotá, where he earned the degree of Expert in Studies of Law and Diplomacy in 1974.
Reyes joined Colombia's Ministry of Foreign Affairs in 1973, serving as a secretary in the General Directorate of Protocol until 1976, when he was named second secretary at the Colombian Embassy to Vatican City. Reyes once told an interviewer that of all the international leaders he had met, Pope John Paul II, whom he met shortly after his papal election, was most impressive.
While serving in that post, Reyes studied Integration Law at Rome's Prodeo University (now known as LUISS Guido Carli University). He completed both his postgraduate work and Vatican City duties in 1981.
Returning to Bogotá, Reyes served as second secretary in the Ministry's Border Division from 1981 to 1983, as deputy director general of protocol from 1983 to 1986, and as private secretary to the minister for foreign affairs, Julio Londoño Paredes, for whom he had worked at the Border Division, from 1986 to 1988.
Reyes returned to Jorge Tadeo Lozano University in 1988 to study international relations. From 1988 to 1991, he served as general secretary of the Integration Commission between Colombia and Ecuador; for part of that time, during 1990, he was also acting minister for foreign affairs.
Heading back to Europe, Reyes served as ambassador to the Czech Republic from 1991 to 1994, with concurrent accreditation to neighboring Slovakia from 1993 to 1994.
Back in Bogotá, Reyes served as deputy minister of foreign affairs from 1994 to March 1998. When Minister of Foreign Affairs Rodrigo Pardo resigned in July 1996 when he was accused (and later cleared) in a scandal related to drug cartels, Reyes temporarily took charge of the ministry. His career included a brief stint—April to August 1998—as minister of foreign affairs during the transition between presidents Ernesto Samper Pizano and Andrés Pastrana Arango.
Returning to Europe, Reyes served as ambassador to the United Nations Office and International Organizations in Geneva, Switzerland, from September 1998 to July 2003.
Reyes enjoyed the high point of his career over the next five years, serving as deputy minister of foreign affairs from July 2003 to October 2008. During these years, Reyes was the high presidential representative for establishing the Union of South American Nations – UNASUR – between 2006 and 2008, and from 2007 to 2008, he was chief negotiator for Colombia and the Andean community for the European Union-Andean Community Association. He was also national coordinator of the following diplomatic summits: Ibero-American Summit of the Rio Group, the Foreign Policy of the Andean Community, the South American Community of Nations, and the Summit of the Americas. He also served as president for Colombia of the Neighborhood and Integration Commissions with Peru, Brazil, and Panama.
Reyes retired from the Foreign Ministry after 35 years of service in August 2008, soon taking a job at the University of Rosario in Bogotá. For two years, he was in charge of the "Light Weapons and Small Arms, Ammunition, and Explosives Observatory," which focuses on armed violence in Colombia.
In July 2010, Reyes became executive director of the Colombian American Chamber of Commerce, which represents the interests of Colombian and American business relative to trade and other economic issues.
In addition to his native Spanish, Reyes speaks English, Italian, and French. Camilo Reyes has been married nearly 40 years ago to Gloria Ritter de Reyes.
-Matt Bewig
To Learn More:
Camilo Reyes, "a career diplomat occupy the highest office in Colombia in Washington" President Juan Manuel Santos (Colombia Foreign Ministry)
Camilo Reyes Named Colombian Ambassador to the United States After Resignation of Juan Carlos Pinzón (by Jared Wade, Finance Colombia)
Trayectoria impecable en Relaciones Internacionales (by Juan Manuel Osorio, Expeditĭo) (Spanish)
Reyes: ¿Si estaba tan feliz, por qué se fue? (by Ricardo Santamaría, El Tiempo) (Spanish)
"La diplomacia es más que viajes, comida y cocteles" (El Pais) (Spanish)