Ambassador from Lebanon to the U.S.: Who Is Gabriel Issa?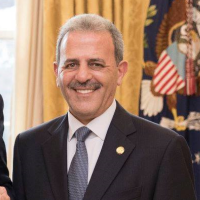 Gabriel Issa
The recently installed ambassador from Lebanon is actually a Lebanese-American who lived in the U.S. more than 40 years. Shortly before the October 2016 presidential election in Lebanon, Gabriel Issa of Detroit returned to Lebanon on a permanent basis and became a close advisor to Lebanon's soon-to-be president, Michel Aoun. Aoun appointed Issa ambassador in July 2017 and Issa presented his credentials to President Donald Trump on January 24, 2018. As ambassador to the U.S., Issa succeeds Antoine Chedid, who served from July 2007 to January 2016.
Born March 15, 1957, in Lebanon, Gabriel Naoum Issa immigrated to the U.S. in 1975 at age 18. Settling down in the Detroit area, which has had a large Lebanese-American community since the 1870s, Issa earned a BS in Civil Engineering at the Detroit Institute of Technology in 1980.
Even before graduation, Issa had already founded two businesses, AAA Language Services and Iterotext Translation Services, in March 1978. Both are located in the Detroit suburb of Bloomfield. Among Interotext's achievements has been translating General Motors car manuals into languages other than English.
Issa spent his career building those two businesses, along with several others, including AAA Properties, founded in August 1995; G&T Enterprises (February 1996); AAA International Group (May 1997); PreBuy (January 1999); and Joules International (January 2009).
Although he became a naturalized US citizen, Issa has been deeply involved in Lebanese politics for years. Lebanon's politics revolve around the religious divisions in the country, whose population is 54% Muslim, 40.5% Christian, and 5.6% Druze, according to the CIA World Factbook. A Maronite Christian, Issa has long supported the "Free Patriotic Movement," (FPM) which is one of two large Christian parties. Last October, the FPM elected its first president of Lebanon, Michel Aoun, who forged an alliance between the FPM and the Shi'ia party Hezbollah. Issa is a long-time associate of Aoun, who, while in exile, sent Issa to Syria in 2005 to discuss Syria withdrawing troops from Lebanon, a goal Issa had been pursuing since 1990, and which was achieved, after a 29-year occupation, in 2005.
Issa has been active in the Lebanese-American community. He has served as president of the Lebanese American Council of Detroit, as president of the Lebanese American Political Action Committee in Detroit; and as co-founder (in 1990) and vice-president of the Lebanese American Council for Democracy in Washington, DC.
Issa speaks fluent Arabic and French. He is married to Bernadette (Gaberiel) Issa, with whom he has four children. Issa renounced his US citizenship in order to serve the government of Lebanon.
-Matt Bewig
To Learn More:
Lebanon Names Former Bloomfield Hills Resident Gabriel Issa as its Ambassador to Washington (Arab American News)
Bilateral Relations between Lebanon and the U.S Are Fine: Gabriel Issa Explains (by Marlene Sabeh, Lebanese American Council for Democracy)