Airline Passengers Push Back against Cramped Conditions…and Each Other
Thursday, September 04, 2014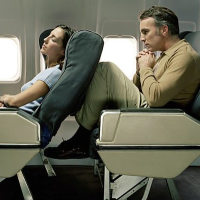 (photo: Getty Images)
The U.S. airline industry is enjoying record profits, thanks in large part to carriers regularly packing each flight with passengers who recently are showing signs of frustration over cramped conditions.
Three times in nine days commercial flights have been forced to land after passengers got into arguments over seating quarters.
A New York-to-Palm Beach Delta flight wound up stopping in Jacksonville, Florida, after a woman reclined her seat and bumped into the head of Amy Fine of Boca Raton, who was using her tray table as a pillow. Fine became upset, started swearing at flight attendants and demanded that the plane land. The pilot diverted the flight and Fine was escorted from the plane.
Before that, 60-year-old Edmund Alexandre of France was subdued by plainclothes U.S. air marshals during an American Airlines Miami-to-Paris flight after he complained that his legs hurt because the woman in front of him reclined her seat. The plane stopped in Boston and Alexandre was removed from the flight.
And on August 24, a United Airlines Newark-to-Denver flight was diverted to Chicago after one passenger employed a device that prevented the person in front of him from reclining their seat. The tool, known as the Knee Defender and banned by many airlines, sparked yet another argument.
"The space squeeze—as airlines pack more people and profit into planes—is only the latest frustration for travelers, already weary of security hassles and charges for checked baggage, food, in-flight entertainment and other once-free services," the Hugo Martin of The Los Angeles Times wrote.
-Noel Brinkerhoff
To Learn More:
Cramped Seats and Angry Passengers Lead to Diverted Flights (by Hugo Martin, Los Angeles Times)
Florida-bound Delta flight Diverted over Reclining Seat Dispute (by Daniel Wallis, Reuters)
Flight from LaGuardia to PBIA Diverted to Jacksonville Due to Fight over Seat Recliner (by Chris Stewart, Brian Entin and Ashleigh Walters, WPTV)
Fight over Legroom Forces Paris-Bound American Airlines Flight to Land in Boston (by Carol Kuruvilla, New York Daily News)
United Flight Diverted after Passengers Fight over Legroom (by Abby Phillip, Washington Post)