Administrator of the Small Business Administration: Who Is Linda McMahon?
Thursday, January 26, 2017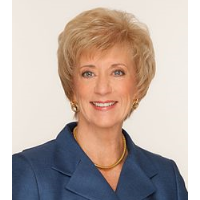 Linda McMahan (photo: Wikipedia)
Linda McMahon, who with her husband built World Wrestling Entertainment into a multi-million-dollar franchise, was confirmed by an 81-19 U.S. Senate vote on February 14, 2017, to head the Small Business Administration (SBA).
McMahon was born Linda Marie Edwards on October 4, 1948 in New Bern, N.C. Her parents worked at the nearby Marine Corps Air Station Cherry Point. She was only 13 when she met Vince McMahon, who was 16 at the time. The two started dating in high school and Linda followed Vince to East Carolina University. They were married in 1966 while she was still working on her B.A. in French, which she earned in 1969.
After McMahon graduated from college, she worked as a receptionist and later a paralegal for the Washington law firm of Covington & Burling. The couple struggled in their early years together, going on food stamps at one point and declaring bankruptcy.
The McMahons got into the wrestling business in the late 1970s and in 1982 bought regional circuit Capitol Wrestling from Vince's father. They bought up other wrestling companies around the country and formed the World Wrestling Federation (WWF). They were later forced to change the name to World Wrestling Entertainment, and later just WWE, after legal trouble with the World Wide Fund for Nature, which was also called WWF.
Linda McMahon helped make WWE hugely profitable, but some of that came from keeping costs low, especially when it came to paying the wrestlers. WWE considers the wrestlers to be independent contractors. Even when three performers took the WWE to court in 2008, claiming they were forbidden by the corporation to have separate employment, the suit was thrown out. "I just don't see, given the whole set of circumstances, how anyone with a straight face can conclude this is not an employee," Robert Solomon, a law professor at the University of California Irvine, who has worked on workers' compensation issues, told The Huffington Post. Treating wrestlers like contractors, he added, has taken "advantage of laborers." Nor is there a real alternative for wrestlers who want to work elsewhere; WWE virtually monopolizes the industry.
And its season runs all year long. Wrestlers perform, getting slammed to the ring and hit with chairs four to five nights a week. "There's no schedule like the WWE's," wrestler Sami Zayn told the BBC. "Year-round, forever, no, like, light at the end of the tunnel."
McMahon also sought exemptions from state legislatures that would allow WWE to be treated as entertainment, instead of a sport, thus relieving it of the burden of such things as drug testing. More than half the states don't regulate WWE as a sport.
Famously, WWE wrestler Chris Benoit, who in 2007 shot his wife and 7-year-old son before hanging himself, was found to have 10 times the normal level of testosterone, plus the anti-anxiety drug Xanax in his body.
Benoit's father, John, told the Journal Inquirer of Manchester, Conn.: "This extreme behavior in a wrestling ring would never have been allowed under the rules of the wrestling and boxing commissions. Linda McMahon claims one of her greatest accomplishments while working at WWE was getting their industry deregulated. They now operate with absolutely no oversight. History will show that the early death rate of wrestlers started shortly after the regulation was stopped."
Since they're considered independent contractors, WWE is not forced to provide health insurance for wrestlers, nor does it pay into Social Security or unemployment insurance for them. Without the Affordable Care Act, wrestlers might not be able to be insured at all because of the danger involved. A study showed that between 1997 and 2004, 65 wrestlers died. Seventeen of the deaths involved steroids, painkillers or other drugs, according to medical examiners.
McMahon has denied that wrestlers' deaths are related to their work, saying the high mortality rate was due to their "personal habits." She also claimed that WWE had no rampant steroid use and testified before the House Oversight Committee in 2007 that its testing program had been shut down in 1996 because it had found so few cases of wrestlers using steroids. It was restarted in 2005 after the death due to heart failure of wrestler Eddie Guerrero was linked to his steroid use, but even then the committee found that 40% of wrestlers tested positive for steroids even when being warned of upcoming testing.
In addition, a 1989 memo from McMahon about George Zahorian, who was an on-call doctor for WWE, surfaced. The memo, written when McMahon had been informed that Zahorian was being investigated, read: "Although you and I discussed before about continuing to have Zahorian at our events as the doctor on call, I think that is now not a good idea. Vince agreed, and would like for you to call Zahorian and to tell him not to come to any more of our events and to also clue him in on any action that the Justice Department is thinking of taking." McMahon told the committee that Zahorian "distributed steroids unbeknownst to us."
McMahon, who had been WWE's CEO since 1997, left the business in 2009 to run for Senate from Connecticut against Democrat Richard Blumenthal. She lost the 2010 race, gaining only 43.2% of the vote and winning in only one of the state's counties. McMahon tried again two years later, this time losing to Chris Murphy. She did increase her vote total—to 43.3%—but won only the same county she had previously. McMahon spent nearly $100 million on the two races.
Ironically, in the second campaign, McMahon urged that the SBA be abolished. When questioned about that during her SBA confirmation hearing, McMahon said she'd only wanted to abolish duplicative programs. "I am a firm believer that SBA needs to be a stand-alone agency," McMahon told New Hampshire Senator Jeanne Shaheen (D).
In the 2012 contest, it was found that the McMahons were late paying their property taxes for their Stamford, Conn., condominium—in Trump Tower. In addition, some of McMahon's final paychecks to workers in the 2012 campaign bounced.
The McMahons have two children, Shane and Stephanie. Stephanie is married to Paul Levesque, known as Triple H to wrestling fans.
-Steve Straehley
To Learn More:
Donald Trump's Small Business Pick Has a History of Crushing Smaller Competitors (by Travis Waldron, Huffington Post)
From the WWE to the White House: The Anti-Worker History of Trump's SBA Pick (by Branko Marcetic, In These Times)
Linda McMahon Lobbying For WWE Helped Deregulate Wrestling Amid Scandals (by Michael McAuliff, Huffington Post)
Memo: McMahon Tipped Steroid Doctor (by Glenn Thrush, Politico)
McMahon Was Late With More Property Tax Bills (by Daniela Altimari, Hartford Courant)
Meet Linda McMahon, Wife of WWE Billionaire and Trump's Pick for Small Business Administrator (by Kate Vinton, Forbes)