Administrator of the Federal Motor Carrier Safety Administration: Who Is Raymond Martinez?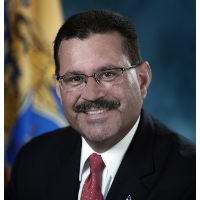 Raymond Martinez
Raymond P. Martinez, who ran the motor vehicle departments at different times for the states of New York and New Jersey under Republican governors, was nominated September 26, 2017, to lead the Federal Motor Carrier Safety Administration, which is charged with creating regulations and safety initiatives, to be used in cooperation with states, to improve the safety of commercial vehicles.
Born in 1960, Martinez is from Long Island, New York, where he was a member of the Nassau County Young Republicans. In 1983 he graduated from Long Island University's C.W. Post College with a B.A. in political science and went on to earn a J.D. from St. John's University in 1993.
Martinez was an aide in the New York State Senate and worked as an attorney in private practice, including working for Citibank. He also served in the Reagan administration as first lady Nancy Reagan's deputy director of scheduling and advance, and was a special assistant in the New York office of the federal Department of Housing and Urban Development. In 1989, Martinez pleaded guilty to driving while intoxicated in Nassau County, New York, and was fined $350.
He worked as an advance man for three successive GOP presidential campaigns—Bob Dole's in 1996 and George W. Bush's in 2000 and 2004. Beginning in 1996, Martinez was special counsel and deputy chief of staff to New York's Attorney General. Martinez began serving in 1998 as assistant general counsel for the Long Island Power Authority.
In 2000, New York Governor George Pataki (R) appointed Martinez to lead the New York State Commission of Motor Vehicles. Pataki apparently thought it amusing that Martinez had a DWI conviction. "I guess that qualifies you to be president of the United States," Pataki said, referring to George W. Bush's similar conviction.
Martinez returned to federal service in 2005 as deputy chief of protocol in the State Department, serving through the end of the Bush administration. While there, Martinez was asked to testify to New York's senate about the move by New York state, by then under Democratic leadership, to issue driver's licenses to undocumented immigrants. Despite studies showing that granting such licenses make the roads safer, Martinez blasted the practice. "It's a complete surrender that I believe makes New York and the United States less secure," he told the New York Post.
Republican New Jersey Governor Chris Christie appointed Martinez to lead his state's Motor Vehicle Commission (MVC) in February 2010. In 2014, Martinez was sued by a New Jersey resident, Shannon Morgan, whose application for the personalized license plate 8THEIST had been automatically denied because "it may carry connotations offensive to good taste and decency." Morgan tried to get "BAPTIST" and found it was available. Martinez denied the application and was ordered in 2016 to issue the license plate, and similar combinations, and the state was ordered (pdf) to pay $75,000 in legal costs. Martinez remained at the MVC until his federal nomination.
-Steve Straehley
To Learn More
Trump Nominates Martinez to Head FMCSA (Heavy Duty Trucking)