Administrator of the Environmental Protection Agency: Who is Scott Pruitt?
Thursday, February 02, 2017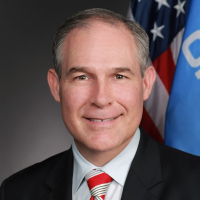 Scott Pruitt
Continuing his pattern of advancing nominees to head agencies whose missions they oppose, President Donald Trump picked Scott Pruitt—who sued the Environmental Protection Agency (EPA) 14 times in just 6 years—to be its new chief. Pruitt weathered rocky confirmation hearings, frequently focused on his serious conflicts of interest involving the oil and gas industry, to win Senate confirmation by a 52-to-46 vote on February 17, 2017.
Born in 1968 in Danville, Kentucky, Scott Pruitt grew up in Lexington, earning a baseball scholarship to the University of Kentucky, where he was a second baseman for a season. After a year, Pruitt transferred to Georgetown College (Kentucky), where he earned bachelor's degrees in political science and communications in 1990. He then got his J.D. at the University of Tulsa in 1993.
Pruitt practiced civil law in Tulsa for five years. In 1998, Pruitt successfully ran as a Republican for a seat in the Oklahoma Senate representing Tulsa and Wagoner counties. Pruitt spent eight years in the state senate, rising to Republican assistant floor leader by the time he left in 2006. While still a senator, in 2001 Pruitt ran in a special election for a seat in the U.S. House of Representatives, but lost. In 2006, he abandoned his seat to run for lieutenant governor, but lost in the GOP primary.
Taking a few years away from government service, Pruitt bought a share of the Oklahoma RedHawks, a AAA minor league baseball team he co-owned with Robert Funk Sr., until they sold it in 2010, just in time for Pruitt's political comeback.
Elected attorney general of Oklahoma in 2010, Pruitt made a name for himself in conservative circles nationwide for his consistent opposition to enforcing environmental laws, his skepticism about global warming, and his unusual willingness to sue the federal government. In fact, in 2012 he was elected as chairman of the Republican Attorneys General Association, and re-elected for a second term in February 2013.
That conservative activism, along with $270,000 in campaign contributions to Pruitt from the oil and gas industry and business dealings that raise ethical concerns, are among the main reasons why so many Senate Democrats are opposing Pruitt's selection.
Soon after his 2010 election, Pruitt put a halt to ongoing legal efforts against the poultry industry for polluting the rivers of northeastern Oklahoma with tons of chicken manure. Pruitt—who had taken at least $40,000 in campaign contributions from poultry industry executives and lawyers—gave the companies a sweetheart deal to study the problem further. Later, he allowed a 2003 agreement to reduce poultry waste pollution to expire and abolished an expert unit on poultry industry pollution.
Pruitt also filed a series of 14 lawsuits against federal regulations to protect the environment from numerous threats, including mercury emissions by coal-burning power plants, carbon dioxide that causes climate change, and other forms of air and water pollution. In 13 of those cases, according to The New York Times, Pruitt was joined by co-plaintiffs that included companies that had contributed money to him or to affiliated political campaign organizations. At one point, Pruitt allowed an industry-written letter, prepared by Devon Energy officials, to be printed verbatim on official stationery with his signature.
Although none of Pruitt's anti-EPA lawsuits has succeeded, being confirmed as EPA chief could allow him to boost his success rate by addressing cases he himself has filed. As Sen. Edward Markey (D-Massachusetts) said to Pruitt at his confirmation hearing before the Environment and Public Works Committee, "If you don't agree to recuse yourself, then you become plaintiff, defendant, judge and jury on the cases you are bringing right now as attorney general of Oklahoma against the EPA." Pruitt denied that this would be a conflict of interest.
Among the cases Pruitt has lost are one to block the restriction of how much mercury a coal plant can emit and another that would have blocked EPA's Regional Haze Rule, which protects the air around national parks.
Although Pruitt has justified his industry-friendly approach by appealing to states' rights and federalism, he testified at his confirmation hearing that he would not commit to continuing a decades-old federal policy that allows California to set stricter auto emissions standards than elsewhere in the United States.
Pruitt and his wife, Marlyn, have been married 25 years and have two children, daughter McKenna and son Cade.
-Matt Bewig
To Learn More:
Trump's EPA Pick Casts Doubt on California's Power to Regulate Auto Emissions (by Evan Halper, Los Angeles Times)
Scott Pruitt, Trump's E.P.A. Pick, Backed Industry Donors Over Regulators (by Eric Lipton and Carol Davenport, New York Times)
Senate Dems Raise New Conflict-of-Interest Charges against Pruitt (by Elana Schor, Politico)
Energy Firms in Secretive Alliance With Attorneys General (by Eric Lipton, New York Times)