Administrator of Job Corps: Who is Lenita Jacobs-Simmons?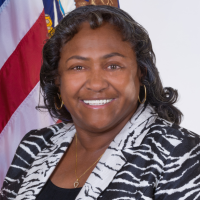 Lenita Jacobs-Simmons
Lenita Jacobs-Simmons was named administrator for Job Corps in November 2014. A program within the U.S. Department of Labor, Job Corps has trained and educated more than two million youths from disadvantaged backgrounds since its establishment in 1964. It currently provides annual assistance to 60,000 people, ages 16 to 24. Job Corps centers are operated by private companies which contract with the Department of Labor.
Born circa 1959, Jacobs-Simmons grew up in Philadelphia. Her official biography states that she graduated from Temple University and the University of North Carolina at Chapel Hill. However, she declined to provide AllGov with the years of her attendance, the nature of her degrees and the subjects in which she majored.
In South Carolina, Jacobs-Simmons served as grants administrator for the Charleston County government and executive director of the Trident Workforce Investment Board. In 1999, she joined the Labor Department's Employment and Training Administration (ETA) as deputy assistant secretary. In February 2002, she was named administrator of the Department of Labor and deputy assistant secretary for ETA's field operations.
Jacobs-Simmons was subsequently named regional administrator for ETA's Philadelphia office, which gave her responsibility for oversight of ETA programs administered in Delaware, the District of Columbia, Maryland, Pennsylvania, Virginia, and West Virginia. Those programs included the Wagner Peyser Act, which connects job seekers with employers, the Workforce Investment Act and Unemployment Insurance. Jacobs-Simmons was responsible for management of nearly $2 billion in federal grants administered by more than 150 grantee organizations.
As Job Corps' national director, Jacobs-Simmons oversees the program's 125 centers throughout the United States.
-Danny Biederman
To Learn More:
Audio Interview with Lenita Jacobs-Simmons (Tom Joyner Morning Show, BlackAmericaWeb.com)
Video Interview with Lenita Jacobs-Simmons, Part I (ResCare Workforce Services Network)
Video Interview with Lenita Jacobs-Simmons, Part II (ResCare Workforce Services Network)