175 Million Gallons of Deadly Industrial Wastewater Spilled Across U.S. in 5 Years
Friday, September 11, 2015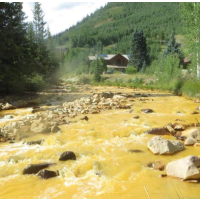 Yellowish stream, filled with arsenic and lead, flows from Colorado's contaminated Animas River (photo: EPA)
Wastewater spills from oil and gas production in the United States have increased in quantity and volume in recent years, totaling 175 million gallons during a five-year span.
An investigation by the Associated Press (AP) found wastewater spills have contaminated the land—including freshwater sources—and killed wildlife with increasing frequency at the same time oil and gas production increased from 2009 to 2014.
Spills in 2009 totaled 2,470 in 11 states; by 2014, the total was 4,643, according to the AP's John Flesher.
"The amount of wastewater spilled doubled from 21.1 million gallons in 2009 to 43 million in 2013 before dipping to 33.5 million last year," Flesher reported.
There were in excess of 21,000 individual spills during the five years studied by AP. However, the actual total may be far higher given that many such incidents are never reported. The causes include overflowing storage tanks, ruptured pipes, and even deliberate dumping of the waste.
"Though oil spills tend to get more attention, wastewater spills can be more damaging," wrote Flesher. "Spilled oil, however unsightly, over time is absorbed by minerals in the soil or degraded by microbes. Not so with the wastewater … The fluids often contain heavy metals such as arsenic and mercury, plus radioactivity. …Land dries up. Trees die. Crops cannot take root."
The numbers were collected from 11 states that account for more than 90% of the nation's onshore oil production: Texas, North Dakota, California, Alaska, Colorado, New Mexico, Oklahoma, Wyoming, Kansas, Utah and Montana. The highest number of incidents and greatest volume of wastewater spilled occurred in Texas, which is the leading gas and oil producer in the United States. There were 4,783 incidents and 62 million gallons spilled in that state.
The AP also sought records from ninth-ranked oil producer Louisiana and second-ranked gas producer Pennsylvania, but officials in those states said they were unable to provide comprehensive data on wastewater spills.
Flesher found that such spills rarely result in penalties for oil and gas companies. This inaction does little to encourage the industry to take action to prevent accidents.
"It's almost a coddling relationship," Jill Morrison of the Powder River Basin Resource Council, an environmental advocacy group in Wyoming, told Flesher. "The industry looks at spills as a cost of doing business."
Meanwhile, the victims—farmers, ranchers, landowners—spin their wheels in court while their land, water and livestock deteriorate.
"If we lose our water, that ruins our ranch," Justin Johnson, a fourth-generation New Mexico rancher, told AP. He and his father Carl have, for decades, battled oil companies whose dozens of spills have decimated their land and threatened their livestock. One of those spills, caused by a broken pipe, flooded their expansive ranch with 420,000 gallons of toxic brine. "It will never, ever be like it was. It will never fully recover. That's the end of the story."
-Danny Biederman, Noel Brinkerhoff
To Learn More:
Drilling Boom Means More Harmful Waste Spills (by John Flesher, Associated Press)
States Rarely Punish Companies for Oil Wastewater Spills (by John Flesher, Associated Press)
Oops…EPA Causes 3 Million-Gallon Wastewater Release into River (by Noel Brinkerhoff and Danny Biederman, AllGov)
Frackers Dump 3 Billion Gallons of Dangerous Wastewater into Aquifers (by Ken Broder, AllGov California)