11 Hypocritical World Leaders who Pretended to March for Press Freedom in Paris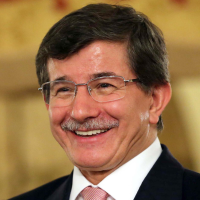 Ahmet Davutoğlu
As U.S. pundits and politicians debate whether President Barack Obama should have taken part in the march in Paris on Sunday or sent a high-profile representative, it's worth noting some of the repressive world leaders whose company he would have kept.
As moving as it was to see millions of people from around the world march for protection of freedom of the press, those who follow the subject of press freedom could not help but snicker, bristle or become outraged to see almost a dozen world leaders taking part in a demonstration whose theme was "Je suis Charlie," who are themselves guilty of suppressing freedom of the press in their own countries. Here are 11 such leaders. They are listed in order of their ranking in Reporters without Borders' World Press Freedom Index, from worst to merely awful.
1. Prime Minister Ahmet Davutoğlu of Turkey
Despite being Westernized and an ally of the United States, Turkey has one of the worst records on press freedom in the world, sitting at 154th out of 180 countries, according to Reporters Without Borders. The problem has been exacerbated since Ahmet Davutoğlu became prime minister and Recep Tayyip Erdoğan took over as president in 2014.
Seventy journalists have recently been prosecuted for mentioning the corruption hearings against four former cabinet ministers. It doesn't take much to run afoul of Turkey's media minders; television presenter Sedef Kabas was arrested for tweeting about a judge closing a corruption investigation in October. Her mobile phone was seized during a search of her home. Another journalist, Mehmet Barnasu, was arrested December 30 for criticizing an advisor to Erdoğan in a tweet.
And the harassment can go beyond merely being arrested. Bloggers and even newspaper distributors have been killed under suspicious circumstances. Nor does the Turkish government stop in itsown country. In New York, two Turkish journalists were roughed up in the hotel where Erdoğan was staying during a meeting with Vice President Joe Biden.
Erdoğan considers the internet a particular threat to his power. "I am increasingly against the internet every day," he said in October.
Davutoğlu has participated in a campaign to round up those opposed to his and Erdoğan's government.
2. Minister of Foreign Affairs Sergei Lavrov of Russia
Russia has a long record of suppressing journalists. Just in the past year, the country codified more of these restrictions. In July, the government enacted a law banning "appeals to extremism" on the internet. A similar law was already in force, but the new legislation had the effect of increasing penalties for that "crime" on the internet.
Also in July, the Russian legislature passed a law banning pay television channels that are encrypted from selling ads. This will have the effect of shutting down those channels and leaving the government-sponsored free television as the only option for millions of Russians.
Russia isn't just working at the macro level either. It continues to harass and arrest many journalists. In November, Sergei Reznik and Aleksandr Tolmachev were sentenced to a penal colony for an "insult" to state officials and perjury. Dmitry Shipilov was arrested in September after an interview he did with an advocate of Siberian autonomy was published.
Russia is ranked 148th out of 180 countries on Journalists Without Borders' press freedom index.
3. King Abdullah II of Jordan
Jordan is getting worse in its treatment of journalists; it fell seven places to 141st out of 180 countries on Reporters Without Borders' press freedom index last year.
In July, the country blocked access to nine more news websites on top of the 263 it already restricted. One of the sites was 7iber, a site promoting press freedom which had changed its url after being blocked the previous year. Under Jordanian law, a website that posts "news, investigations, articles, and commentary related to the Kingdom's internal or external affairs must obtain a licence from the Press and Publication Department."
7iber editor-in-chief Lina Ejeilat told Reporters Without Borders "We refuse to apply for a license because we believe this is a form of censorship and that websites should not have to obtain permission from the government to operate. The editor-in-chief has to have been a member of the Jordan Press Association for at least four years, a condition that is obviously very hard to meet." Ejeilat added. "This licence is a way for the government to control the news reported by websites."
Jordan has enacted vaguely written laws prohibiting stories "against internal and external security." In addition, journalists are forced to join a government-sponsored union.
The Jordanian government has jailed journalists for "inciting anti-government protests" and for criticizing Jordan's cooperation with the United States on security matters.
Journalist Mudar Zahran, who's based in Great Britain, was sentenced last February to prison with hard labor for writing op-eds about King Abdullah II.
4. President Mahmud Abbas of Palestine
Be careful what you post on Facebook. That is, if you live in Palestine.
Two journalists have been jailed for posting photos comparing Palestinian President Mahmud Abbas to others on the social media site.
In February 2013, Anas Awwad, 26, was found guilty of "extending his tongue" against the PA leadership and "fomenting sedition and sectarian strife." His crime was posting a photo of Abbas on Facebook that showed the president as a player for the Real Madrid soccer team.
The following month, Mamdouh Hamamreh was sentenced to a year in prison for sharing a photo on Facebook that compared Abbas to a man who played the role of a French spy in a popular Syrian TV series.
Other journalists have been detained for posting criticisms of Abbas on Facebook. Palestine is ranked 138th on Journalists Without Borders' press freedom index.
5. Prime Minister Mehdi Jomaa of Tunisia
Despite being the cradle of the Arab Spring uprising, Tunisia hasn't aligned its attitude toward a free press with the promise of the revolution that began in 2010.
Blogger Yassine Ayari is currently being retried for "defaming the army" on Facebook. He was convicted in absentia and arrested when he arrived in Tunisia from France on December 24. His original sentence was three years in jail. His posts criticized Defense Minister Ghazi Jeribi, as well as specific appointments made in the military command, according to Amnesty International.
In 2013, a journalist who filmed an egg-throwing attack on Tunisian Culture Minister Mehdi Mabrouk was jailed. Also that year, several journalists were attacked and harassed in the aftermath of the assassination of opposition leader Mohamed al-Barahmi.
Other journalists have been prohibited from covering events because of supposed connection to Islamists.
Tunisia's new constitution has some concerned. It supposedly protects press freedoms, but Article 124 would set up a body that would "regulate and develop the information sector and guarantee freedom of the press and expression and the right of access to information," according to the Committee to Protect Journalists.
Tunisia is ranked 133rd on Reporters Without Borders' press freedom index.
6. President Ibrahim Boubacar Keïta of Mali
Keïta managed to stand right next to French President François Hollande during Sunday's widely-televised march, but that doesn't erase the fact that Mali's stance on freedom of the press is steadily getting worse. It's currently ranked 122nd on the press freedom index maintained by Reporters Without Borders. That's a fall from 99th in 2013, which itself was a drop of 74 places on the list.
In December 2013, government officials threatened to block the Paris-based website Maliactu in the country unless it removed an Associated Press story detailing reprisal killings of ethnic Arabs in Timbuktu after the region was retaken from al-Qaeda control, according to the Committee to Protect Journalists. "I was forced to take down the article," Maliactu editor Sega Diarrah said. "I judged that the blocking of my web site in Mali was a repercussion that would be even more negative for my publication than taking down the article."
In November 2013, Radio France Internationale journalists Ghislaine Dupont and Claude Verlon were murdered in Mali's northern region, according to Reporters Without Borders.
Editors within Mali have been arrested and foreign journalists expelled from the country for their coverage of Mali's army.
7. Minister of Foreign Affairs Ramtane Lamamra of Algeria
Algerian authorities have imprisoned journalist Abdessami' Abdelhai since August 2013 without trial. Algerian law provides that pretrial detention is supposed to be only an "exceptional measure."
Abdelhai, a local correspondent of the Arabic-language daily Jaridati, was arrested for allegedly helping Jaridati editor Hicham Aboud to flee the country to escape prosecution.
"By holding this journalist for 15 months without trial, the Algerian authorities have violated his fundamental rights, above all, his right to freedom and a fair trial," Reporters Without Borders program director Lucie Morillon said. "We urge them to put him on trial now, so that he can defend himself, or otherwise free him at once."
Aboud was charged last year with "endangering national security, territorial integrity and the proper functioning of national institutions" because he discussed President Abdelaziz Bouteflika's health with the international media. He was subsequently also charged with leaving the country illegally.
Last September, computer scientist Youcef Ould Dada was sentenced to two years in jail for posting a video showing three policemen committing a robbery during inter-communal clashes in the country's Ghardaïa province. Dada was arrested even though the video was also shown on Algerian television.
"The video posted by Dada was broadcast by the commercial TV station Ennahar and was reposted by other people on social networks without anyone else being questioned or charged," said Reporters Without Borders assistant research director Virginie Dangles. "The policemen who carried out the robbery were not charged either, although they were easily identifiable in the video."
Other journalists have been harassed and arrested. Algeria ranks 121st on Reporters Without Borders' press freedom index.
8. Minister of Foreign Affairs Sheikh Abdullah bin Zayed al-Nahayan of United Arab Emirates
The government of the United Arab Emirates has been quick to go after any journalists it sees as publishing negative information about the country. In November 2013, Waleed Al-Shehhi was sentenced to two years in jail and fined the equivalent of about 100,000 euros because of his tweets about the trial of 94 dissidents (the "UAE 94") during the first half of the year, according to Reporters Without Borders. Only carefully chosen national media were allowed to cover the UAE 94 trial, in which the defendants were accused of links with the Muslim Brotherhood. Neither foreign media nor foreign observers were allowed to attend.
Al-Shehhi was charged under a law that bans the use of information technology for activities that endanger national security and defame the government. Another journalist, Abdullah Al-Hadidi, served a 10-month sentence for publishing information about the same trial.
Foreign journalists have been detained and expelled from the UAE. The country is ranked 118th on Reporters Without Borders' press freedom index.
9. President Ali Bongo Ondimba of Gabon
Gabon, a nation in West Africa, has an interesting approach to suppressing information it doesn't like. Last September it substituted copies of two anti-government newspapers, La Loupe and L'Aube, run by the same publisher with ersatz editions that contained articles praising the government. A new member of the production and layout staff, a suspected government infiltrator, was blamed, according to Reporters Without Borders.
The fake La Loupe went to the newsstands first. Then, the September 8 issue of L'Aube, as produced for publication was headlined: "The president's office pirates La Loupe. May you be cursed for life !!!!" with a story accusing President Ali Bongo's chief of staff, Maixent Accrombessi, of orchestrating the deception.
L'Aube's readers never saw this issue. Someone bought the entire print run from the distributor, and then reportedly went to Multipress, the company that prints L'Aube, and forced the staff to print a bogus issue.
More traditionally, Gabonese officials interrogated journalist Olivier Ndembi about his research into the alleged involvement of Gabonese politicians in ritual killings. Other journalists have been arrested and fined.
Gabon is ranked 98th out of 180 countries in the 2014 Reporters Without Borders press freedom index.
10.-11. Prime Minister Benjamin Netanyahu and Foreign Minister Avigdor Lieberman of Israel
Israel is often held out as the one democratic country in the Middle East, but it can be as oppressive to journalists as its Arab neighbors are. This is particularly true in the case of Palestinian journalists or those covering Israel's ongoing battles in Gaza and the West Bank.
During the Gaza conflict last summer, Israeli authorities tried to ensure that views representing its enemy didn't get out. On July 5, journalists for Palestine Today television were hit by Israeli army fire and four were wounded. A correspondent for Hamas television was also arrested.
In June, Israeli authorities raided the offices of a printing company that published two Palestinian cultural magazines. Computers and digital files going back to the magazines' founding were confiscated. The offices of Palmedia were also ransacked.
In 2013, Israeli authorities detained Palestinian photographer Mohamed Al-Azza who works for Palestinian News Network and Ma'an News.
Israel is ranked 96th on Journalists Without Borders' press freedom index.
-Steve Straehley
To Learn More: