1 of 9 Black Children in U.S. Has a Parent in Prison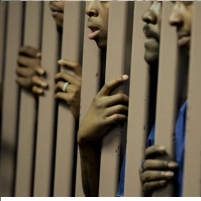 America's growing prison population over the last several decades has resulted in more and more children growing up without a parent, most often a father being the one behind bars.
A report from the Pew Charitable Trusts reveals that more than half of all prisoners in the U.S., or 1.2 million inmates, are parents of children under the age of 18. Fathers make up the vast majority of this total, 1.1 million, while the rest are mothers (120,000).
About 40% of all incarcerated fathers are black, and one out of nine black children (11.4%) in the country has a parent in prison or jail.
Among the other findings in the Pew report:
• More young (20 to 34-year-old) African American men without a high school diploma or GED are currently behind bars (37%) than employed (26%).
• 2.7 million children have a parent behind bars—1 in every 28 children (3.6%) has a parent incarcerated, up from 1 in 125 just 25 years ago. Two-thirds of these children's parents were incarcerated for non-violent offenses.
• Previous research has shown that children with fathers who have been incarcerated are significantly more likely than other children to be expelled or suspended from school (23% compared with 4%).
The United States has the highest incarceration rate in the world and has a larger total inmate population than the 35 largest European countries combined.
-David Wallechinsky, Noel Brinkerhoff