Wyoming Ranchers Knock Gray Wolf Off Endangered Species List
Sunday, September 02, 2012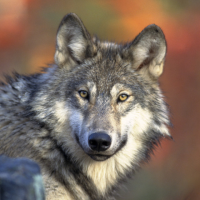 (photo: Gary Kramer, Fish and Wildlife Service)
After years of lobbying, Wyoming ranchers Friday finally succeeded in convincing the U.S. Fish and Wildlife Service (FWS), an agency in the Interior Department responsible (along with the National Marine Fisheries Service) for implementing the Endangered Species Act (ESA), to remove the gray wolf from the federal Endangered Species List. Although management of the species is to be turned over to the state of Wyoming as of September 30—just in time for a new wolf hunting season set to start October 1—environmental groups are likely to sue before then.
Former FWS Director Jamie Rappaport Clark, now president of Defenders of Wildlife, called the decision "a low point in the modern history of wildlife conservation and a stunning move by an administration that vowed to be guided by sound science," and stated that "we are left with no choice but to pursue legal action to ensure that a healthy, sustainable wolf population remains in Wyoming and across the Northern Rockies for many generations to come." Current FWS Director Dan Ashe disagreed, emphasizing that FWS is "confident that the Wyoming population will sustain its recovery under the management plan Wyoming will implement."
First listed as endangered in 1978, owing to plummeting numbers because of aggressive hunting by humans, under ESA protection the gray wolf has made a comeback. Today, the entire Northern Rocky Mountain wolf population has more than 1,774 adult wolves and 109 breeding pairs, including 328 individual wolves in Wyoming. Wyoming's management plan is supposed to maintain a minimum of 150 wolves and 15 breeding pairs in the state, which is the same objective adopted by Montana and Idaho when gray wolf management was turned over to them in May 2011.
An apex predator, the gray wolf has few natural enemies other than human beings, and among them livestock ranchers are implacable wolf-haters because wolves love to eat cattle and sheep. Although ranchers complain vociferously about the financial costs of wolf predation, a study by University of Calgary economists Tyler B. Muhly and Marco Musiani found that in Idaho, Montana and Wyoming, from January 1987 to January 2003, wolves killed 219 livestock animals, or only 13.68 animals per year. These killings "cost producers approximately $11,076.49 per year between 1987 and 2003 … [and] accounted for <0.01% of the annual gross income from livestock operations in the region." Such losses, moreover, are subject to compensation by the federal and state governments.
-Matt Bewig
To Learn More:
Conservationists Howl as Feds Drop Wyoming Wolves From Endangered List (Environmental News Service)
Wyoming Gray Wolves Officially Delisted (by Mark Wilcox, Wyoming Business Report)
Livestock Depredation by Wolves and the Ranching Economy in the Northwestern U.S. (by Tyler B. Muhly and Marco Musiani, Ecological Economics)
House Republicans Move against Wolves (by Noel Brinkerhoff, AllGov)