Women are Half the Population, but Only a Quarter of Candidates for Political Office
Monday, September 08, 2014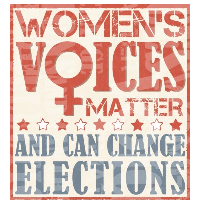 (graphic: Tennessee Guerilla Women)
The average ballot this November will not be an accurate representation of the demographic makeup of the United States. Although women comprise slightly more than half the population, only a quarter of those who run for office are female.
The imbalance is even stronger among those who win major offices: only 20% of U.S. senators, 18% of House members, 10% of governors and 24% of state legislators are women, according to a Pew Research study. The research looked at the 2% of Americans who say they've run for public office at some time in their lives and found that group is overwhelmingly male and white. Eighty-two percent of those who have run for office are white.
Another study, (pdf) this one from the University of Pittsburgh, found that one reason women tend not to run for office might be that they're "election averse." The study by Kristin Kanthak and Jonathan Woon had people in different groups assigned to solve math problems. Members of the groups would volunteer to solve the problems. In some cases, a volunteer was randomly selected to solve the problems, in others volunteers were elected by their group to do the problems. Men and women volunteered in similar numbers when the selection was random, but more men volunteered when there was an election involved.
"We suggest that election aversion may be an important behavioral source of women's underrepresentation that is distinct from, but also complements, existing attitudinal and preference-based explanations," Kanthak and Woon wrote. "Indeed, our results are consistent with a growing body of literature in the behavioral sciences that seeks to explain that the dearth of women in a variety of important positions in society—not only in politics, but also in business leadership, science, and technology—is the result of not only external, but also internal motivational factors."
Other research shows no sign of the electoral gender gap abating. The New York Times reported that researchers at American University concluded (pdf) last year that young women have fewer political ambitions than young men.
-Steve Straehley
To Learn More:
Does the Prospect of Running for Office Discourage Women? (by Derek Willis, New York Times)
Who Runs For Office? A Profile Of The 2% (by Seth Motel, Pew Research Center)
5 States Still Have Never Elected a Woman to Congress (by David Wallechinsky and Noel Brinkerhoff)