With Domestic Oil Production at 27-Year High and Increased Rail Shipments, Rail Accidents are Actually Declining in Frequency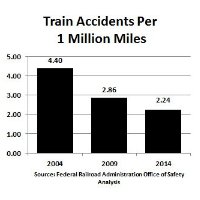 (graphic: Steve Straehley, AllGov)
Anecdotal evidence in the form of exploding railcars may give Americans the impression that the nation's railways have become dangerous. But statistical information shows that even with increased oil production and rail shipments, railroad accidents have actually decreased.
Nightly news broadcasts of oil-laden train cars going up in flames in Lac-Mégantic, Canada, two years ago when 47 people were killed, left a stark impression in the minds of many. Similar oil-train disasters have occurred in West Virginia, Illinois and elsewhere just within the past few months.
Although the amount of oil being moved by rail has increased dramatically, with the Association of American Railroads reporting the volume of oil being shipped on trains soaring from less than 75,000 carloads in 2005 to approximately 400,000 in 2013, Federal Railroad Administration statistics show the number of train accidents per 1 million train miles declined from 4.4 in 2004 to 2.24 by last year.
Domestic crude oil production is approaching all-time highs, according to Bryan Schlake at The Conversation, averaging over 8.5 million barrels per day last year, mostly due to oil coming from the Bakken oil fields of North Dakota.
.
Also, in 2014, "for the first time since 1987, annual U.S. field production of crude oil topped three billion barrels, a 170% increase since 2008," Schlake wrote.
-Noel Brinkerhoff
To Learn More:
Despite Disasters, Oil-By-Rail Transport Is Getting Safer (by Bryan W. Schlake, The Conversation)
1.5 Million Pennsylvanians Live Within Half-Mile Evacuation Zone of Rail Lines Carrying Volatile Crude Oil (by Noel Brinkerhoff, AllGov)
Dangerous Oil-by-Rail Is Here, but Railroad Bridge Inspectors Are Not (by Ken Broder, AllGov California)