Why is Budweiser Allowed to Partner with National Park Service despite Anti-Alcohol Advertising Policy?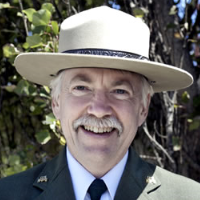 Jon Jarvis, Director of the National Park Sevice
What's next, keg parties at the Lincoln Memorial?
The National Park Service (NPS) has gotten a waiver allowing it to enter into a marketing agreement with Anheuser-Busch InBev, the world's largest brewer and maker of Budweiser.
The deal was approved via a memo (pdf) in January that was obtained by Public Employees for Environmental Responsibility (PEER). It's a two-year, $2.5 million campaign to engage in "co-branding with a goal of attracting a younger population to the NPS and the corporate brand," according to the memo. Part of the justification for the waiver was a previous Park Service partnership with a small winery.
The memo did allow that there could be some "potential negative impacts" arising from the partnership. The first one listed was "perceived mismatch of values" between the National Park Service, the National Park Foundation and the brewer. One example might be the recent Bud Light campaign calling it "The perfect beer for removing 'no' from your vocabulary for the night." Anheuser-Busch pulled the campaign after an outcry.
The deal even allows Budweiser to use the Statue of Liberty on its beer cans.
"Once it has gotten into bed with its corporate partner, the Park Service cannot pick and choose which market messaging it will embrace and which it will ignore," PEER executive director Jeff Ruch said. "It is both telling and troubling that the current Park Service leadership sees its core values best reflected in beer ads."
Get your red cups ready and line up by Lincoln's chair. The party's about to begin.
-Steve Straehley
To Learn More:
Park Service Waives Alcohol Ban for Budweiser Promotion (by Timothy Cama, The Hill)
Provocative Bud Light Campaign Doesn't Concern National Park Service, National Park Foundation (by Kurt Repanshek, National Parks Traveler)
Corporate Bedfellows: Parks Service and Budweiser Team Up in Dubious 'Co-Branding' Scheme (by Sarah Lazare, Common Dreams)
Budweiser Celebrates America's Greatest Treasures with National Park Foundation, Brings Partnership to Life with Patriotic Packaging (Anheuser-Busch)