Why Can't the Trucking Industry Give up just some of its Profits to Save Lives?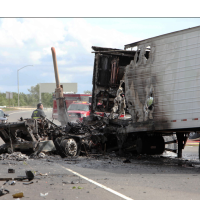 (photo: Sue Cockrell, Davis Enterprise/AP)
The trucking industry is pushing for federal legislation that would weaken rules governing truckers, who are involved in crashes that kill thousands of people each year.
In fact, fatalities from truck-involved crashes have been on the rise, climbing 17% from 2009 to 2013, according to Howard Abramson, a former executive at American Trucking Associations. In 2013, death from truck-involved crashes totaled 3,964, primarily automobile drivers but also 586 people who were truck drivers or passengers.
During the same period, car-related deaths declined more than 3% thanks to "technological improvements like airbags, electronic stability control and anti-lock brakes," Abramson wrote in a New York Times op-ed. "The trucking industry has resisted most of those safety devices."
The industry instead is trying to move in the other direction by pushing Congress to loosen rules on trucking. These changes include allowing truck drivers to work 82 hours a week, up from the current 70 hours over eight days and eliminating the requirement that drivers take a two-day rest break each week. The legislation also would allow longer and heavier trucks on American roads, and lower the age of drivers of large trucks from 21 to 18 years old.
Abramson says his former employer, American Trucking Associations, has argued that longer work weeks and bigger vehicles will reduce the number of trucks on the road, and thus reduce the number of accidents. He calls this logic "laughable, but Congress seems to be buying it."
"The industry also bases its opposition to safety-rule changes on money, saying that increasing costs will hurt profits and raise rates for shippers and, ultimately, consumers," he wrote.
Some in the trucking industry believe that driverless trucks may be the answer to reducing truck-related deaths on the nation's highways. New technology is being developed that uses cameras and a radar system to allow the truck to drive itself, allowing the driver to tend to other matters. "A computer…will naturally take fewer risks than a person and remain perpetually attentive, so collision risks go down when people are taken out of the equation," wrote Andrew Soergel at U.S. News & World Report, relating the view of Martin Daum, president and CEO of Daimler Trucks North America.
There are currently more than 1.6 million tractor-trailer and heavy truck drivers operating big rigs in the U.S., according to the U.S. Department of Labor. As of this year, the industry is short by about 50,000 drivers, given the demands of cross-country transport of freight—which has increased by 15% during the past eight years, stated Soergel.
-Noel Brinkerhoff, Danny Biederman
To Learn More:
The Trucks Are Killing Us (by Howard Abramson, New York Times)
An Industry Stuck in Neutral (by Andrew Soergel, U.S. News & World Report)
Traffic Deaths Up Sharply in First 6 Months of this Year (by Joan Lowy, Associated Press)